6 Best diving sites in Croatia
Read about the best diving sites in Croatia, in Central and South Dalmatia, in particular. Discover the rich underwater life of the Adriatic.
Croatia has thousands of islands to discover. But which are the best picks for those who love nature and underwater life? The Adriatic Sea is the best place for you to explore all the magic of the underwater world. In this article, we recommend the best diving sites in Central and South Dalmatia and promise, you'll love them all!
It's fairly easy to include them into any sailing route and even your crew members that aren't divers will very much enjoy the above-water sites as well.
Diving experiences in Croatia
Firstly, finding the best diving places depends on how adventurous of a person you are! When it comes to diving, there are so many diving sites and in Croatia you'll find almost all of them. There's something for everyone.
Secondly, diving can be just snorkeling or scuba diving which is a more adventurous and deep exploring activity. There are courses throughout the coast from beginner to advanced levels. Here you'll read about scuba diving spots. And, there are so many to choose from. For example:
shipwrecks
airplane wrecks
cave diving
deep diving
recreational diving
technical diving
discovery diving
Are you excited enough yet?
With the right equipment, weather conditions and guides, it's possible to experience scuba diving all year round, but it's most pleasant in the main season (from May to October). We recommend contacting a local diving club and joining their guided dives. That way you'll be safer, well-equipped, and led by local professionals that know the area, weather, currents, any difficulties to be aware of.
Vis Island – full of history
The island of Vis in general is one of the best diving sites because it has a variety of options to explore. Its strategic importance throughout history is particularly visible underwater. Some major diving sights are:
the wrecked aircraft B-24 Liberator Tulsamerican (a heavy US bomber, crashed on 17 December 1944)
the Italian cargo steamer Teti, a massive cargo ship that ran around the islet of Mali Barjak in 1930
at the entrance to Vis port there's also a big amphorae site that attests long and interesting history of Vis.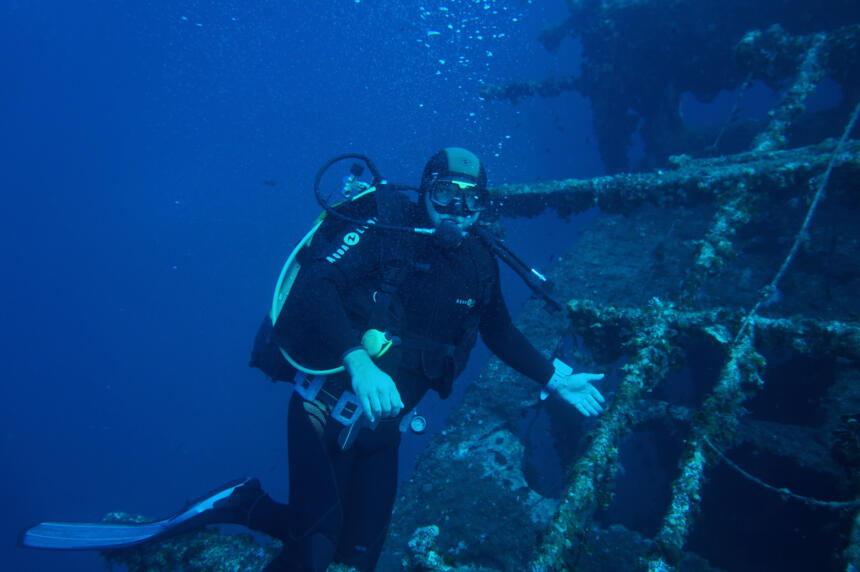 Lastovo – The marine life abundance island
If you love animals and especially fish then Lastovo's Bjelac island underwater will be your favourite place! There you can find many species of marine life such as wing oysters, yellow triple fins, scorpionfish, moray eels, cushion starfish, marine goldfish, fork-beards, lobsters, and others. The fact that it's actually a natural underwater tunnel beneath an island, also adds to the charm and thrill. Another option is to explore the Cape of Struga, with vast walls of gorgonians.
Brac island bays – Lucice bay the favorite one
Lucice cove is one of the favorite places for sailors. Likewise, to divers, as well. The bay has five endings. The sandy floor and the dense pine forest that surround the exquisite sky-blue color of the sea form a picture-perfect diving site. The Lucice cave is on the southeast end of the bay. It starts just at 5 meters depth and then drops a further 15 m to a spacious chamber that leads off into two tunnels.
Also, we recommend you read our blog "9 best things to do on Brac island".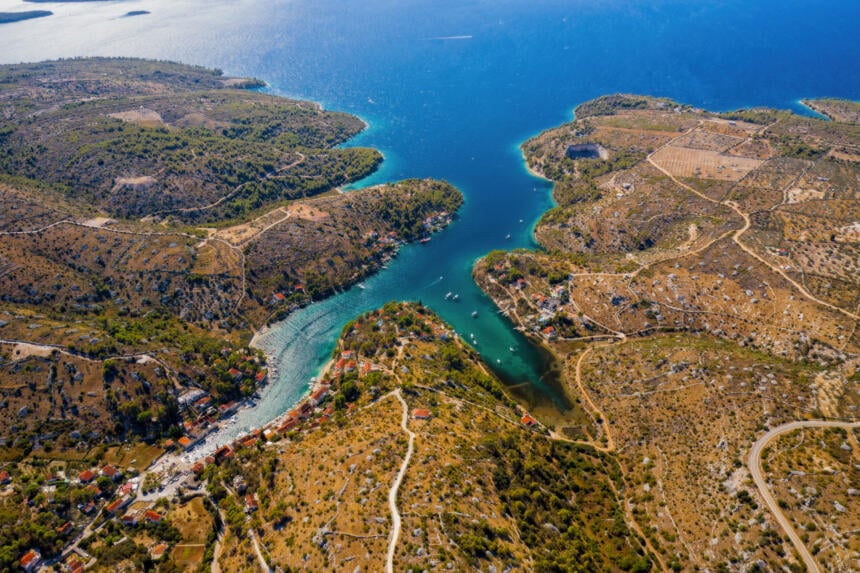 Solta – The Green Island
This island is perfect for both beginners and advanced divers. Explore amazing caves, green bays, and shipwrecks. Some suggestions for diving spots are:
the wreck of the fishing boat "Ribolovac"
the cape of bay Livka with an ancient anchor in the bottom
Jorija caves which are perfect for beginners
Vela Ploča with gorgonians and lobsters(!), Sipuja, full of holes, canyons and gorgonias
Marie Grotta perfect for underwater videos and photo captures
We have a blog Best Things to do on Solta Island for more inspiration.
Korcula – The Marco Polo's island
Marco Polo was a world -famous explorer who might have been born on this island… So why not feel like him and explore the gems of this island? Besides the beautiful beaches, you can also dive here and find a wreck from 1984 "Boca" in the Bay of Trstenica. Or, the Wreck of the 'Garda', an old steamship sunk on the south side of the island. The best diving site with marine life is the island of Lucnjak, covered in marine growth of fan corals, sponges and other marine species.
However, if you wish to discover the island by foot, we have a blog that highlights the best things to do in Korcula.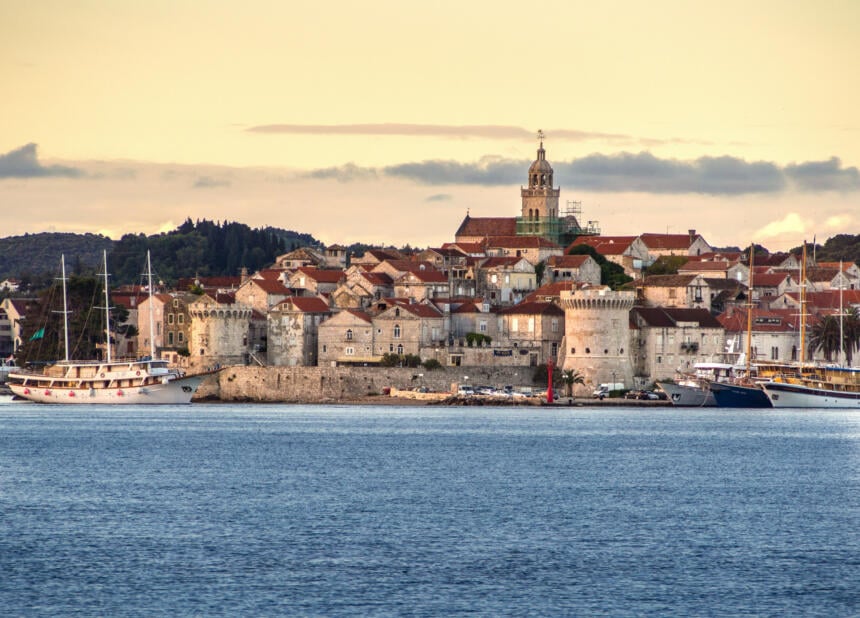 Dubrovnik – the Game of Throne's favorite – Taranto
When you finish admiring the best views from the old city walls of Dubrovnik, it's time to explore Taranto. The best diving site in Dubrovnik. The marine life here is stunning.
This spot is only for advanced divers as it has some difficulties for beginners. Taranto is actually a shipwreck from 1943 . It is now the home of many underwater species and a magical place to discover. There, you can find mullets, cardinal fish, scorpion fish, lobsters and octopus amongst sponges, bryozoans and anemones.
Are you ready to discover these diving sites?
Croatia is a place full of marine life, beautiful islands to explore, turquoise bays, old architecture. So whatever site you choose for your diving adventure, we are sure that you will have the time of your life!
If you are looking for more inspiration head on over to Diving in Croatia website. There you have 117 diving spots and you can filter them by location, difficulty, visibility, and even currents.
How did you like our selection? Have you decided which one you will pick? Tell us your experience!