Rogoznica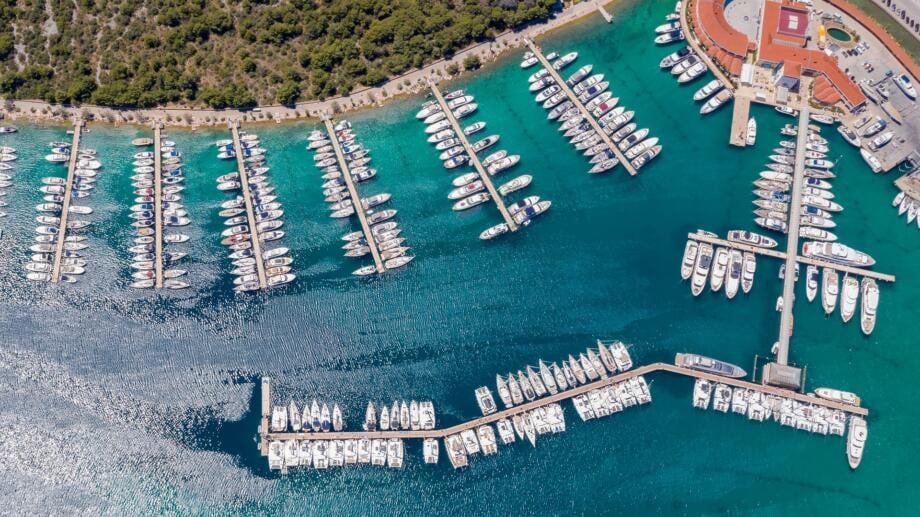 Soline bay in the middle of the Adriatic hides our third charter base – Rogoznica. We chose marina Frapa because it is perfectly situated between the historic towns of Split and Sibenik. Moreover, you can visit the fascinating Dragon's Eye Lake, that's just next to the marina. Additionally, when chartering from Rogoznica, explore either North Dalmatia and the Kornati Archipelago. Or, head more south to Central Dalmatia and the islands of Solta, Hvar and Vis.
It is one of the best-equipped marinas in the Mediterranean. The marina has the "Golden Sail" award, plus other awards and recognitions, as well. In addition, Frapa is a partner of the international Blue Flag program and the Green Sail ecological movement.
We have a fine selection of boats for charter from Rogoznica. Our full-time staff keeps them in excellent condition all year long. They are happy to help in any way possible to make your Rogoznica charter experience outstanding.
Boats from Rogoznica
Itineraries from Rogoznica
Here are some routes that we planned for you…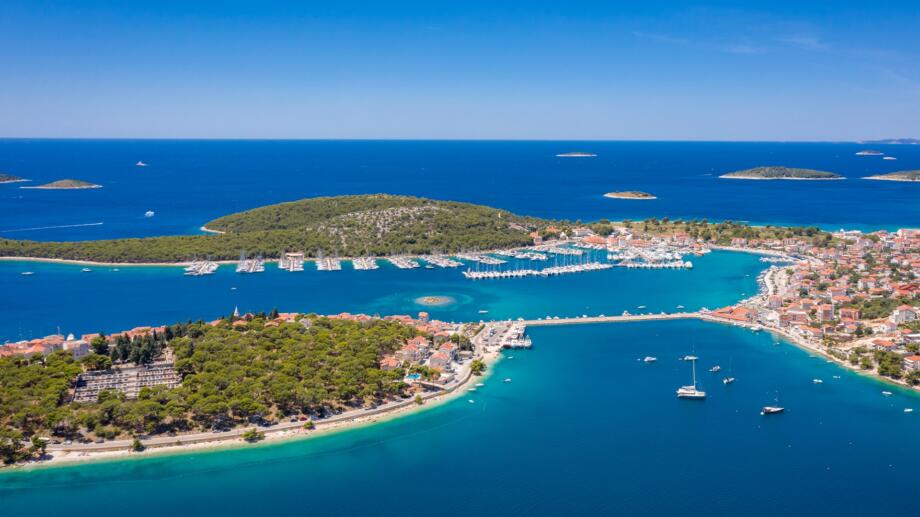 Rogoznica
A quiet fishing town…
The deep bay makes Rogoznica one of the safest ports. This is a quiet fishing village/town with over 2600 sunny hours per year. The old village is located on the small island of Kopara. This narrow dam connected the small island and the mainland in the second half of the 20th century. The stone houses exude an authentic Mediterranean feel. If you'd like to read more on what to do in Rogoznica, head on over to our blog on what to do in Rogoznica…
Sailors and yachtsmen like the place because of the good and safe harbor. What's more, there's the fascinating Dragon's Eye Lake, deep pine forests ideal for hiking, a long coastal promenade, and many nice beaches, islets, and bays.
Start your charter from Rogoznica and sail around North Dalmatia. Explore the National Parks of Kornati or Krka Waterfalls, Sibenik archipelago and so much more. Or, head more south and enjoy Central Dalmatia with the islands of Solta, Brac, Hvar or Vis!
Our Rogoznica charter base has an excellent selection of Lagoon catamarans and X-Yachts sailboats. Moreover, you can combine our other charter bases for an unforgettable one-way charter experience.
Marina amenities
Marina Frapa is one of the best-equipped marinas in the Mediterranean. The marina has 10 piers with 462 equipped berths. The modern resort consists of two restaurants, a sushi bar, a shop, a nightclub, a café, and a bar, including the exotic underwater Dragon bar.
ATM
Currency exchange office
Open-air swimming pool with bar
Restaurant
Laundry
Tesla electric charging station
Shop
Boutique
Sushi bar
Tavern
Nightclub
Fitness center
Nautical shop
Hotel
Souvenir shop
Boat lift
Rent a car
Wellness
Yacht service
---
Marina facilities
Private parking lot with surveillance within the complex at €1.40/hour, €10/day. Marina Frapa Rogoznica has its own fueling station.
Water and electricity
Parking
Gas station
Toilet and shower facilities
---
Other facilities in the area
In case you don't find everything you need at the marina, head on over to Rogoznica. It's only a 20-minutes walk. Or take a taxi if you need to supply your boat at the supermarket. In Rogoznica there are plenty more restaurants, taverns, cafés, pastry and gelato stands, and bakeries, as well as a green market and fish market.
ATM
Post office
Pharmacy
Shop
Supermarket
Green market
Fish market
Restaurant
---
Marina information
Marina Frapa
Uvala Soline 1
22 203 Rogoznica