9 Things to do on the Island of Brac
Let us introduce you to some of the best things to do when boating in and around the Island Brac – the largest island of Central Dalmatia.
Brac (Croatian – Brač) is the largest Island of central Dalmatia as well as the highest Croatian Island. The highest peak, Vidova Gora, reaches up to 778 meters. If you decide to reach the top on a clear day, you can even see Italy. The Island is covered with cypress tree forests and has a variety of magical bays.
Brac is placed in-between Split, Solta, and Hvar. Despite being close to Split, Dalmatia's largest town, island Brac is not as popular among tourists and yachtsmen as Hvar or Solta are. Nevertheless, the Island is unique and has a lot to offer. From historic sites to lovely nature and rich tradition, Brac is surely one of the hidden gems of Central Dalmatia.
Let us introduce you to the best things to do with your charter boat on Brac Island. We are sure you'll add it to your must-visit list!
Mrduja – the ancient dispute
Mrduja is an islet between Brač and Šolta. This has caused many arguments throughout the centuries between the two islands. The fishermen came up with the idea of how to establish ownership. They tied a rope around the island and started playing tug-of-war. Although Mrduja administratively belongs to island Brac, this event turned into a tradition. Every August the fishermen and sailors from both islands tie a knot around Mrduja and pull. So if you're around, come by with your boat and watch to see who gets the bragging rights for the following year!
The world-famous stone
The Island of Brac has been famous for its high-quality stone since ancient times. Romans were among the first ones who recognized and exploited the marble from Brac. They used it to build the Diocletian's Palace in Split. Moreover, the UN building in New York, House of Parliament in Budapest also have pieces of Brac in them. Additionally, there's even an urban myth that the White House in Washington D.C. was built from that stone.  The only stonemason school in Croatia is located at the quarry near Pucisca on the Brac Island. The school is a terrific example of this mastery and many generations of students helped handcraft it. Whole dynasties of well-known Croatian masons were educated there. After all, Dalmatia is famous for great sculptors such as Juraj Dalmatinac, Andrija Alesi, and Nikola Firentinac.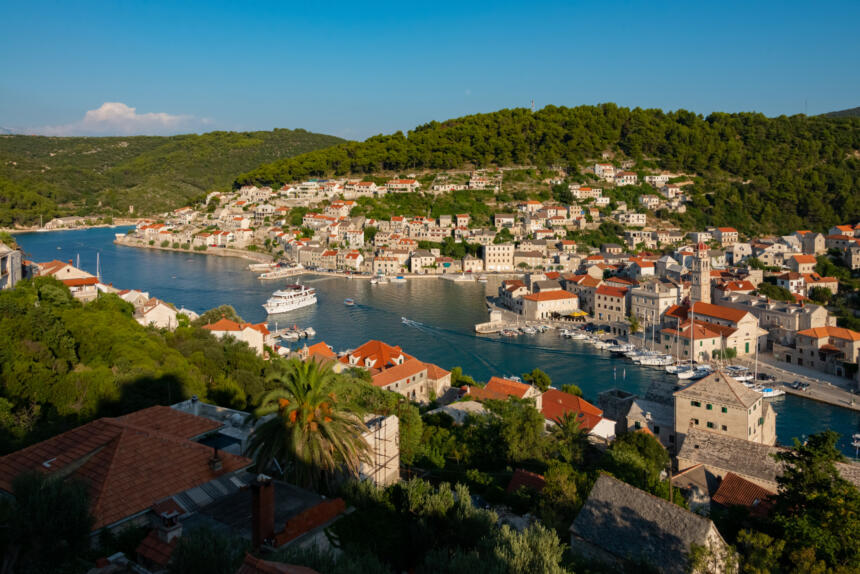 Croatia's Olive Island
Croatia is a country with about 118,000 hectares covered in Olive trees. Split-Dalmatia county takes up a third of olive trees in Croatia. The Island of Brac has an impressive number of more than one million olive trees planted, half of which are cultivated. We highly recommend you walk along the Olive Trail. It begins and ends in Mirca near Supetar. If you visit Skrip, do not miss out on the lovely Cukrov Family Olive Oil Museum. In case you sail around Postira in October we recommend attending the World Olive Harvest Championship. Although a bottle of olive oil is quite pricey, it is worth every cent. If there is one souvenir you will want to bring home with you, it must be the famous olive oil.
Zlatni rat – Symbol of Island Brac
Zlatni rat is a kilometer-long pebble beach located not far from the town of Bol. Its name translates to Golden horn and comes from the uncommon shape it has. It's undoubtedly one of the most beautiful beaches in Croatia and the most representative symbol of the Island Brac. The shape comes from the pebbles rolling down from Vidova Gora for hundreds of thousands of years. Winds, waves, and sea currents influence the direction that the peak is facing. So be careful not to fall asleep on the beach, as you might get wet if it changes shape! This area is very popular among kite surfers, windsurfers, and other sports enthusiasts. And if you want to visit the small town of Bol, worry not. In the summer months, there's a tourist train going from the beach that takes you there.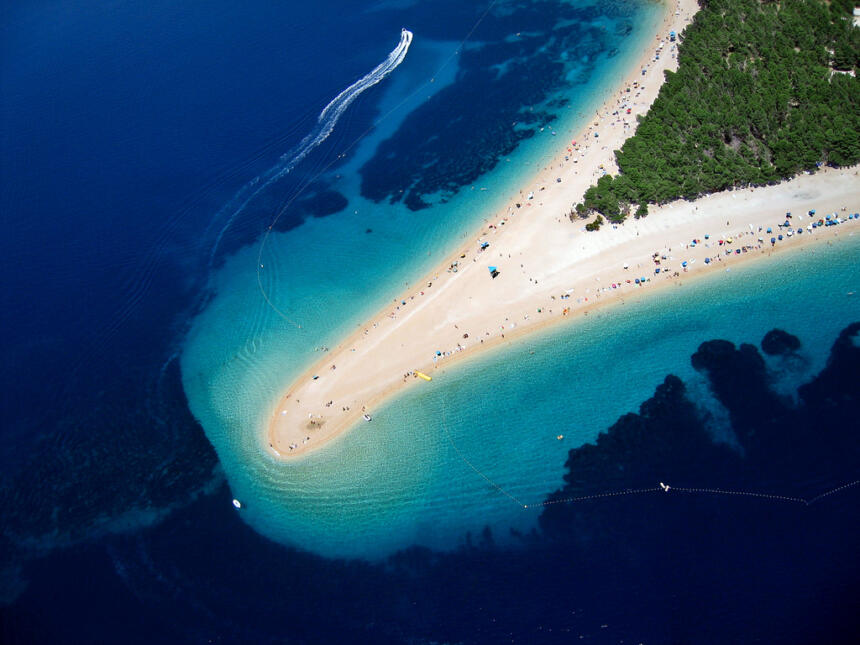 Little Night Regatta
Little night regatta is a century-old sail competition held in Postira, a village on Brac right across from Split. This regatta is like no other since it occurs at night. It's only possible because of the gažul, the night airflow which comes down in summer nights. It takes place in Postira harbor that has a capacity of over 2,000 spectators. As the regatta begins, Mozart's The Little Night Music greets yachtsmen. And the only thing more fun than the regatta itself is the huge party afterward. The whole village joins and parties all night long!
Nerezisca – Bonsai tree and Blaca desert
Nerezisca is a small municipality in the heart of the Island. Although small, it has some of the most amazing attractions of Brac Island. The best-known is the tiny Bonsai tree. This tree grows on the roof of the church in Nerezisca and it is truly a monument of nature. Despite being only one century old, it's been protected since 1969. Nerezisca is also known for the Blaca desert. It is not really a desert, but the word pustinja means one of two things in Croatian language – a desert and a monastery/hermitage. Many Croatians do not know that either. It is partly carved in the mountain. Monks fleeing from the Ottoman threats and attacks on the mainland founded this monastery as a self-sustaining community and later a scientific venue. It also holds the second-largest telescope in Europe!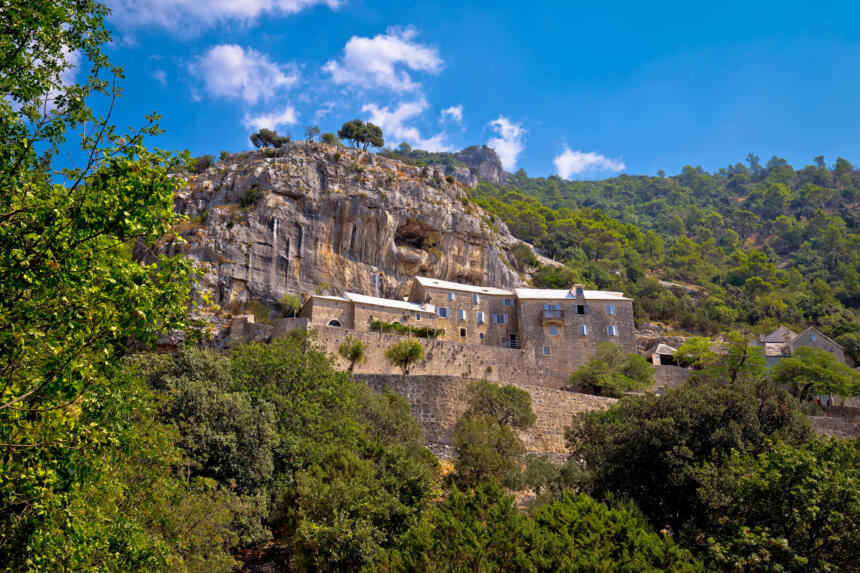 Supetar – the official center
The town of Supetar is located on the north side of the Island. It is the official center. The name comes from the patron of this urban town, St. Peter. If you are looking for boat supplies, Supetar is your best choice. Moreover, it has a great number of restaurants and traditional taverns that serve tasty Mediterranean dishes. Walking through the streets of Supetar, you will see many "villae rusticae", centuries-old churches and romantic squares called "pjacete". The long sandy beaches surrounded by pine forests make a peaceful vacation spot. If you pick Supetar as your anchorage, you will find a port enclosed by a pier with berths on both sides.
People of Brac
There is an on-going joke among Croatians that people from the island Brac are stingy. You have probably heard jokes about the Scots being cheap. Well, Croatian people love to joke that a wasteful son banished from the island of Brač by his father founded Scotland. The jokes started because living in Brac was challenging and locals had to save every hard-earned penny. Many of them fled the country seeking their fortune elsewhere. There are as many as 400,000 people that originate from Brač living in South and North America, half of which are in Chile alone.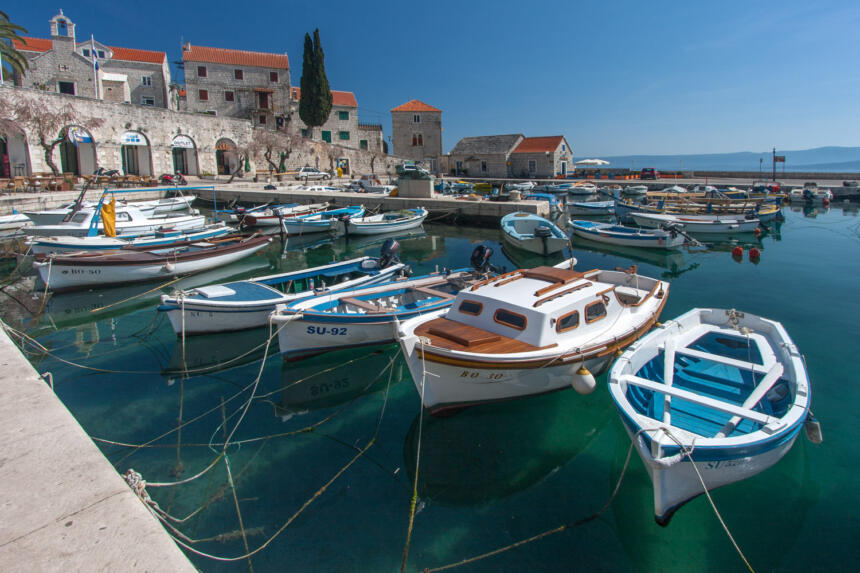 Would you like to sail to Brac Island?
Charter with Nava, we've got you covered with best deals, boats of unmatched quality and a team that's always there to make your vacation carefree. Email us and we will get back to you as soon as possible.