Best Things to Do on Solta Island
Solta is a Croatian island located in the Adriatic Sea, a hidden gem in the middle of the Dalmatian archipelago.
Solta is a Croatian island located in the Adriatic Sea, a hidden gem in the middle of the Dalmatian archipelago. It's only 9 nautical miles from Split which makes it a perfect start or finish of almost any sailing route.
Grohote, the administrative and economic center of Solta, is the oldest village but it's not located on the seaside.
Even though the entire island has a population of only 1.700 people, there are still lots of things to do on the island. Saling is one of the best ways to explore this and other islands.
The Croatian Adriatic coast is very known for its excellent maritime infrastructure, which makes sailing both pleasurable and safe.
Where to anchor on Solta?
Maslinica
The beautiful Maslinica is a unique place irresistible for its rich historical background. Everything goes back to three centuries ago when the noble family of Marchi built their castle to protect the island from pirate attacks. Today, the castle is a heritage hotel Martinis Marchi that features a fine restaurant and a marina. It is a safe place to dock your boat while you have a pleasant dinner with some exceptional Mediterranean wine. They also throw exquisite summer parties, art exhibitions, and sailing challenges.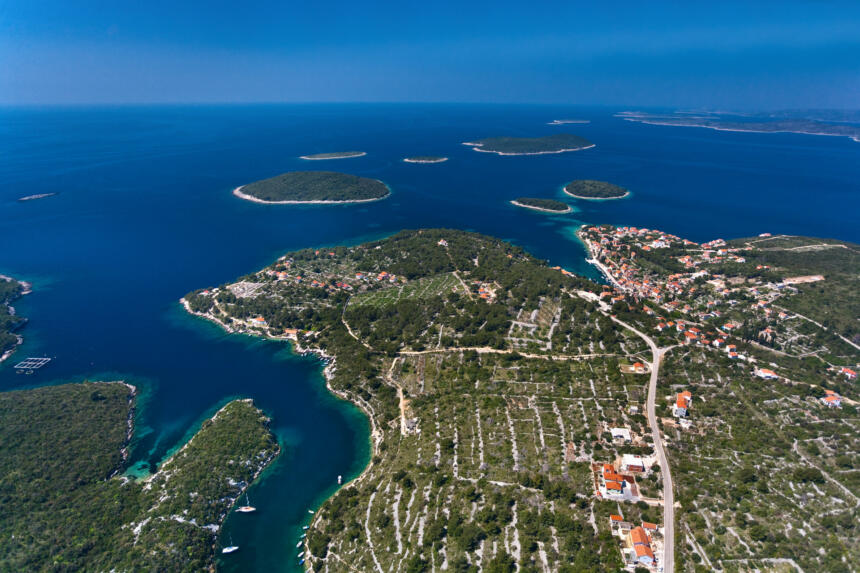 Rogac
Rogac also has a well-equipped marina, and it is the ferry port of the island.
Sesula
If you prefer seclusion and nature, we recommend dropping anchor in Sesula Bay. Find a nice spot in the middle of the bay at a depth of 8 meters. Because the bottom does not hold the anchor securely enough, ropes must be used to attach the stern to the shore, as well. It is one of the safest and best-protected bays on the island.
Other great spots (in favorable weather conditions) are Stracinska, Tatinja or Jorja.
What to eat on Solta?
Agro-tourism is a crucial part of the island. Solta hides some of the most delicious local foods and drinks. For example, you should definitely visit Tvrdic Honey which is a small local family-owned farm. Taste the exquisite honey, and learn about all aspects of beekeeping.
Agroturizam Kastelanac is also an excellent spot to visit if you enjoy good wine. It offers some of the most unique wines and olive oils, as well as some delicious local homemade food. It's also worth mentioning that both of these businesses are pretty famous for their outstanding hospitality.
What to see on Solta?
If you'd like to enjoy some quiet and peaceful times, then you should visit the Basilica of St. Stephen, on the island of Stipanska, near Maslinica. There you will find early Christian ruins of a basilica.
Solta is also a destination for art enthusiasts. Gallery Buktenica & Buktenica, in Grohote, displays a permanent exhibition of one of the most famous painters of the island, Eugen Buktenica Denko, and his heir Vicko Buktenica.
Besides the gallery, they also organize numerous art workshops. Last but not least, you can go to the Vela straza to see the island from the highest peak and enjoy the beautiful sunset.
What to do on Solta?
Cycling around the island is quite a popular outdoor activity, and there are plenty of local travel agencies that offer bike rentals. If you take the Grmej-Solta route you'll get to see the Rogac harbor. In addition, the paths will take you to the beach, olive gardens, and the pine forest. It's a great way to explore the lovely and exquisite Mediterranean landscape.
There are also many sports activities such as scuba diving (Livka bay with its cave or the remnants of a Roman fishpond and wall in Piskera Bay) or archery (in Maslinica) that will keep you active and entertained.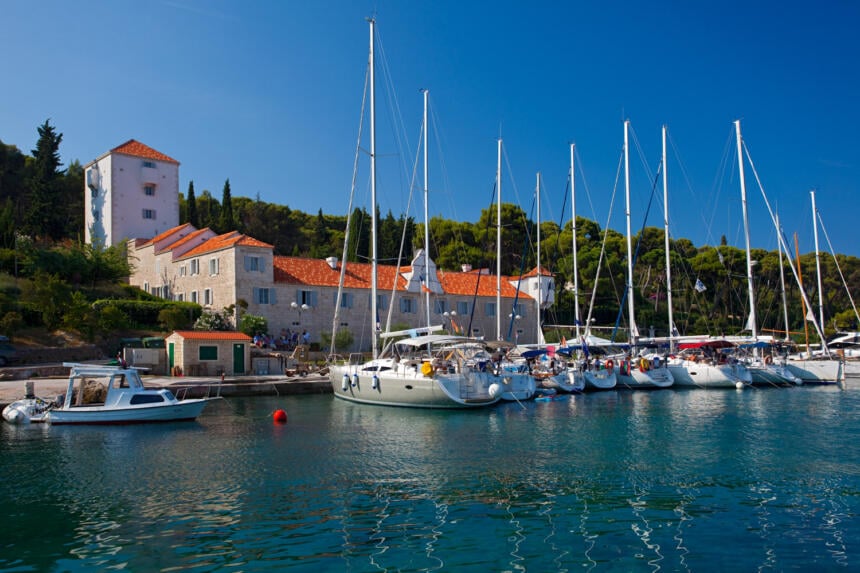 And of course, while you're on the island, you should definitely enjoy the tranquil beaches of Solta, such as Necujam, Donja Krusica, Sesula, Poganica, and Rogac.
If you are interested in sailing to Solta, reach out to our charter team via charter@navaboats.com. They will assist you and make your cruise comfortable and unforgettable.