Croatia now in Schengen and Eurozone: Short Guide
As of January 1st of 2023, just as the clock ticked past midnight, Croatia has entered the EU's border free Schengen zone and the Eurozone. The borders opened, and the currency changed – the famous Croatian Kuna became a part of history.
To learn more about the impact this will have on your sailing experience with Nava, keep on reading.
Adapting the new currency – Euro
The biggest change Croatians are facing now is the new currency.
Since September 5th, the prices in Croatia were specified both in kunas and euros and this is still mandatory until 31st December 2023.
However, starting on 1st January, we are saying goodbye to kuna and welcoming the euro. The first 14 days are the transition period, and kuna will be accepted for payment. Therefore, people can use both kunas and euros until January 15th for paying bills, but the change should be in euros.
The fixed exchange rate for 1 euro is exactly 7,53450 kuna.
During the first year, exchanging kunas to euros is possible in all banks, post offices and FINA without any extra charge. The banks will be accepting the maximum of 100 bills and 100 coins per transaction. If you need to exchange a greater amount of money, you must call the bank upfront and make an appointment. In case you have some kuna left over from your previous vacation in Croatia, don't worry, just take them with you and head to the first bank you see open.
After the first year is over, in some cases you will still be able to exchange kunas without any fee. This is valid only for banknotes without a time limit. However, exchanging coins will only be possible for the first 3 years.
Joining the Schengen area
In the same fashion, there is another big change all travelers will face. From 1st January 2023, Croatia became the 22nd country of the European Union to join the Schengen area.
Why does this matter?
With this decision, there are no more border checks for travelers coming from other countries of the Schengen area. The borders with Slovenia and Hungary are open and 73 check-points are now open for free passing. This means no more kilometer-long queues at the border crossings and hours-long waiting to enter Croatia. However, expect to see more queues at highway entrance points, especially Bregana, Rupa, Macelj, Gorican and Umag.
Additionally, the checks on borders with Bosnia and Herzegovina, Montenegro, and Serbia will be more strict and thorough.
Passengers arriving at maritime ports from the Schengen area (e.i. Italy, Greece, will enjoy the same perks as the travelers that arrive in Croatia by car or bus.
When it comes to airports, the rules are a little different. Full Schengen application starts as of 26th March 2023, and the summer flying schedule. For instance, if you are traveling from Vienna, Amsterdam, Barcelona or any other "Schengen" city, you won't have to go through a passport or police check.
How does this affect your holiday?
With all this in mind, here is the one big question – how will this impact our guests?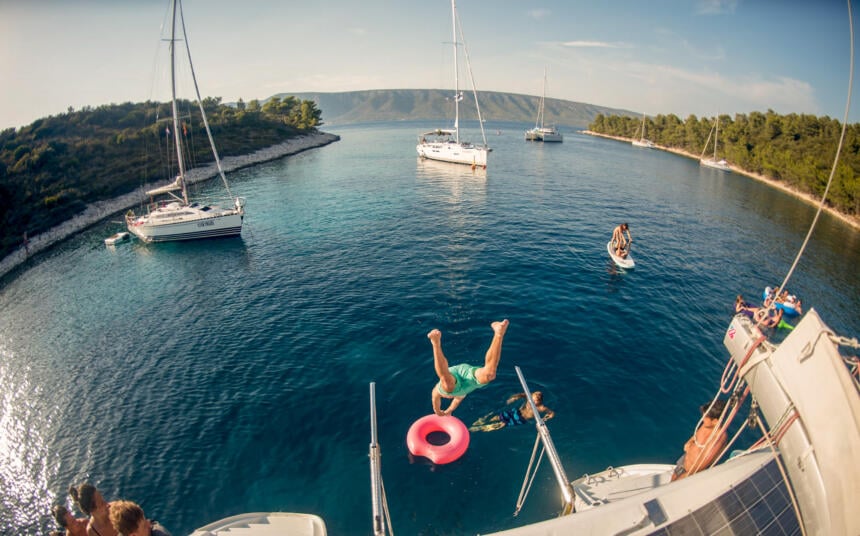 Firstly, if you are traveling from the Eurozone, you won't have to worry about currency. Although Croatia has its own euro coins, all euro coins and banknotes from other European countries are also valid.
Furthermore, we expect the decrease of the queues at the borders. Identity checks and screenings are now a part of the past. You will be able to freely enter and leave the country. However, if you are traveling from a country not participating in the Schengen, you may have to go through a more thorough check.
To learn more about everything, you may read this article on the official Government website.
We are excited for all that these changes bring and hope your holidays in Croatia will be easier and more enjoyable than ever. If you have any concerns, feel free to reach out to our charter team (charter@navaboats.com). If this good news makes you ready to book, send us a quick message or give us a call. We'll be happy to help you on your way to the greatest sailcation yet. See you in one of our 4 charter bases (Split, Slano (Dubrovnik), Rogoznica and Pula) in 2023!