Pula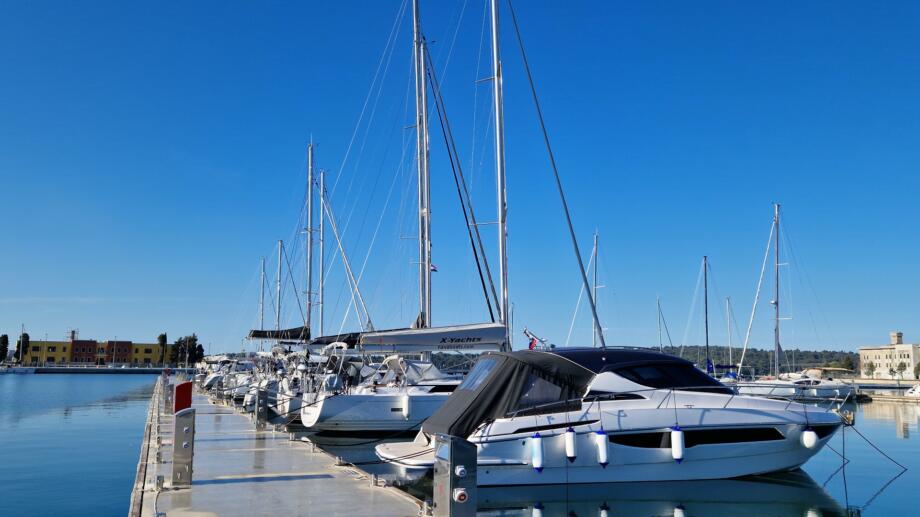 Our fourth charter base in Pula, Marina Polesana is your gateway to North Adriatic. Get comfortable at the brand-new marina, explore the fascinating historic monuments of Pula and then sail away towards the National Park Brijuni Islands, Istria, Kvarner archipelago, or even Italy.
Situated on the coast of the Istrian Peninsula, Pula is the largest town in Istria. Famous for Roman historic sites, pristine scenery, and tranquil waters, Pula is, undoubtedly, the best point to set off and explroe Istria and Kvarner. All the more reason to sail off on your next boating adventure from Nautika Centar Nava's new charter base, Marina Polesana in Pula.
Our new charter base in Pula is a great starting point for any sea-lover ready to explore the Istrian peninsula. Even the Kvarner archipelago is well worth your visit. Firstly, there's the National Park Brijuni islands. At a mere 3 nm lies this area of rich biodiversity and gorgeous scenery. Plus, there's fascinating history and even exotic animals and plants. Additionally, the natural indented bays make the perfect anchoring spots. Here you can enjoy the Istrian or Kvarnerian sunset after a long day at sea. After that, you may sail off towards the picturesque towns of Rovinj, Porec or Umag, or head on over to Krk, Cres, Losinj, and beyond. The choice is yours.
Boats from Pula
Itineraries from Pula
Here are some routes that we planned for you…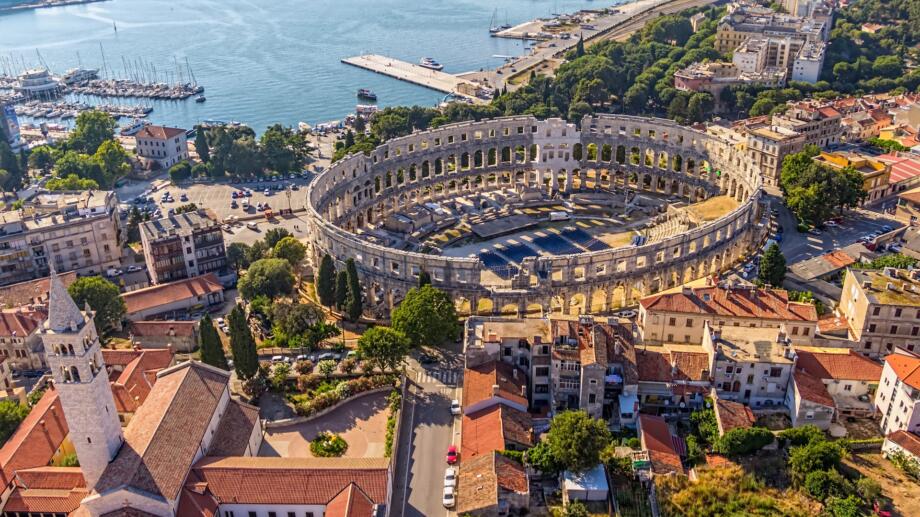 Pula
The biggest town in Istria
The Pula Airport is well-connected to all major European cities and only 11 km away from the marina. Opt for our special transfer for a hassle-free start to your sailing vacation.
While you're in Pula, you might want to explore its rich history and monuments dating back to the Roman times. For instance, the almost fully preserved 6th biggest amphitheater (Arena). Or, the Roman Forum with the Temple of Augustus. Or, you could experience a memorable musical performance at the Arena. Admiring the view from the Venetian fortress, or underwater riches at the Aquarium of Pula… These are all good selections, as well.
Start your charter from Pula and sail around the North Adriatic. Explore the National Park of Brijuni, all of Istria, and even the Kvarner Archipelago.
Marina amenities
La nueva Marina Polesana se encuentra en la isla de St. Katarina, al norte del puerto de Pula. El puerto deportivo forma parte de una parcela de 10 hectáreas que también es un monumento histórico cultural. Combinando infraestructura moderna al antiguo complejo de la Armada Austro-Húngara ha convertido a este sitio en un lujoso puerto deportivo, dique seco, con hotel y centro gastronómico. Se espera la finalización total del proyecto en 2023. El puerto deportivo tiene 262 amarres marinos y 42 secos.
ATM
Restaurant
Self-service laundry
Beach-volleyball course
Boat lift
---
Marina facilities
Un parking privado para los huéspedes del puerto deportivo dentro del complejo. 60 € por semana.
Water and electricity
Parking
Toilet and shower facilities
---
Other facilities in the area
Estación de servicio en Pula - 1,2 mn de Marina Polesana. Encuentra todo lo demás en el centro de la ciudad de Pula o sus alrededores, aproximadamente a 6 km en coche.
ATM
Post office
Pharmacy
Fueling station
Shop
Supermarket
Green market
Fish market
Rent a car
Restaurant
---
Marina information
Marina Polesana
Vallelunga
Pula