Top 10 Reasons to Visit Rovinj, Croatia
Rovinj is one of the most charming towns in all of Croatia. Read all about its colorful buildings, narrow alleys and romantic atmosphere.
Situated on the Adriatic Coast, Rovinj is one of the most charming and picturesque towns in all of Croatia. The colorful buildings, narrow alleys and romantic atmosphere are among some of the main features that attract visitors to this old town!
Rovinj provides endless possibilities. From walks in protected natural landscapes to its water-side gastronomy, this town is the perfect destination to unwind and relax. Here are the top 10 reasons to choose Rovinj as your next destination:
1. Gorgeous Sunsets
The venetian-like city is the perfect location for sunset seekers. Located on the west side of the Istrian coast, Rovinj offers several seaside spots to enjoy a breathtaking sunset. It's the ideal time to snap a shot for your Instagram feed! The popular Valentino Bar is one of the go-to scenic places to savor some cocktails while chasing the sunset.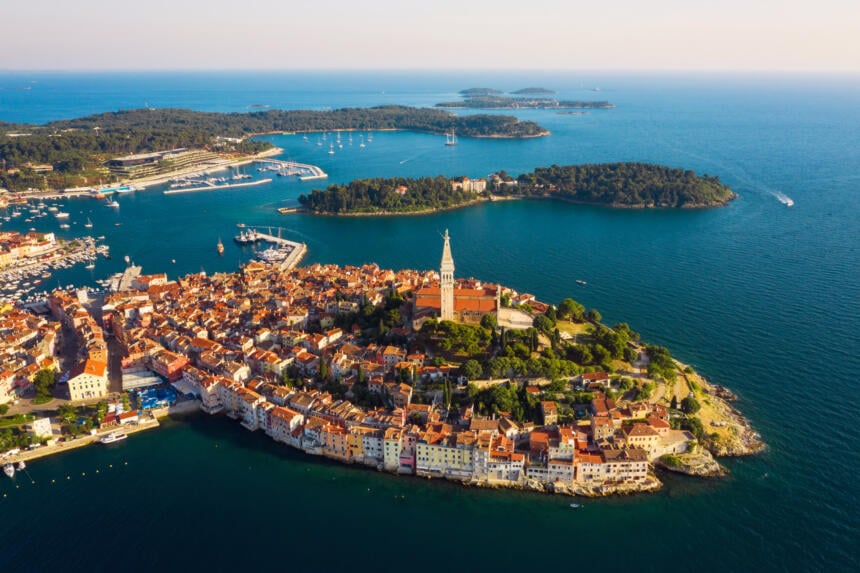 2. Natural Landscapes
If you wish to explore some of Croatia's natural landscapes, visiting this old town is a must! Croatia is known for some stunning scenery and Rovinj is no exception. Zlatni Rt (Golden Cape) is one of the most important natural sites near Rovinj. It's a protected forest park, full of native vegetation but with many exotic trees and species acquired ever since Mr. Hütterott bought and started shaping the landscape in the end of the 19th century. This is the perfect place for strolling, relaxing, cycling, jogging, even free climbing in the closed quarry. It's ideal for families with kids and there's a nice choice of beaches as well. The Lim Fjord, Brijuni National Park and St. Katarina Island, for instance, are among just a few other captivating landscapes near Rovinj.
TIP:
If you choose to visit the Lim Canal, look out for a rustic water-front restaurant Viking, where you can taste freshly caught mussels and oysters and other seafood specialties while enjoying the beauty of the Fjord.
3. Central Location
Despite being a small town, Rovinj is a great base to travel to other nearby spots – "A road trip dream come true". You can virtually travel anywhere around the Istrian Peninsula from Rovinj. It will take you no more than an hour and a half to reach any destination! There are several nearby towns such as Porec, Bale, Pula and Svetvincenat which are certainly worth a visit. Even Trieste in Italy and Slovenia are just 90 minutes away.
4. Culture and History
The town is far more than just a picture-perfect place, culture, history, traditions and friendliness of the locals radiate from every corner. If you're interested in exploring the historical sites of the city, Grisia street is a great place to start. Its steps lead to the church of St. Euphemia, a distinct symbol of the old town's heritage.
DID YOU KNOW?
Before it developed into the town it is today, Rovinj was once a small island restricted by medieval fortifications. It is due to this limited space that Rovinj's streets and squares are so narrow and modest.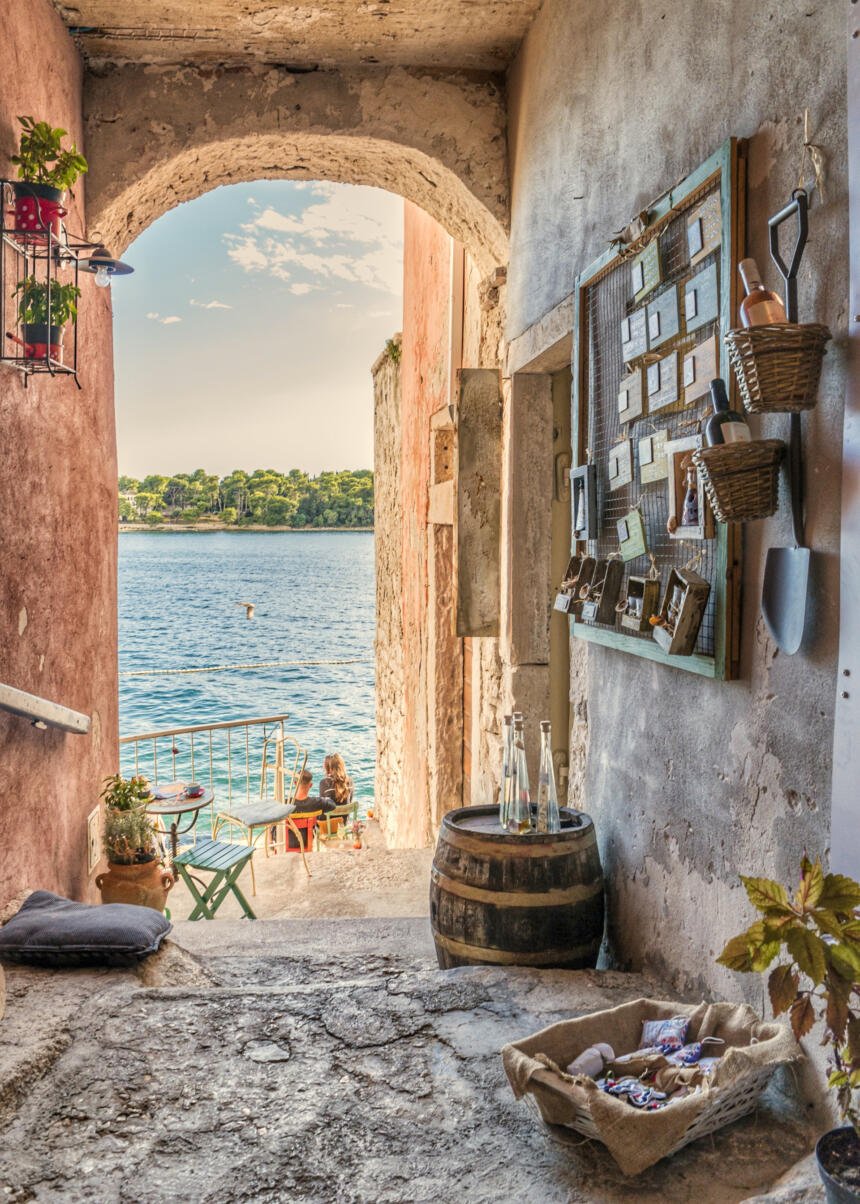 5. Gastronomy
Everybody knows calories don't count when you're on holiday! Whether you have a sweet tooth or prefer a salty treat, Rovinj is full of great (waterfront) dining restaurants that offer traditional food and tasty Istrian beverages. For instance, you simply walk the venetian-like streets and settle at a local tavern or pizzeria to discover an abundance of local fresh seafood and more! Undoubtedly, Rovinj is one of the best culinary locations in all of Croatia. All the more reason to visit!
TIP:
Reserve a table at the Michelin star restaurant, Monte. Situated in the heart of Rovinj, here you can taste some authentic Istrian dishes and fresh seafood caught by local fishermen.
6. An Adventurer's Destination
If you're looking for an adventure, Rovinj is the place to be! This town offers numerous sporting and recreational activities. From bike riding, boat tours and free climbing, the nature surrounding the town is the perfect setting for a new venture. In addition, take advantage of the crystal-clear water and learn how to water ski or even scuba dive! With so much to explore, the strategic position of Rovinj is the perfect starting point for your next adventure.
TIP:
Enjoy sailing? Charter a boat from Nava Charter in Pula and explore the Istrian coast under sails.
7. Buzzing Nightlife
As far as post-adventure drinks go, Rovinj offers plenty of cafés and wine bars to choose from! The nightlife is especially extensive in the summer season. If you're not too tired after an active day, the city center delivers some of the best nightlife spots. Club Steel and Lighthouse Music Club are buzzing with people after the sun sets.
You can read more about top party destinations in Croatia in this blog.
8. Crystal-Clear Waters
Have you ever seen dolphins in the Adriatic waters? Get to Rovinj ASAP. Apart from the stunning water in the west coast, sailing around the scenic archipelago features rich biodiversity. Here, bottleneck dolphins are quite common since this is their natural habitat among other marine wildlife. The clean waters provide some of the best snorkeling destinations. It is of no surprise that many of Rovinj's beaches have been awarded with the Blue Flag certificate, that attest they are clean and accessible.
9. Friendly Locals
People definitely have the power to alter your perspective on a place. There's no doubt that the locals are especially friendly. Despite the increasing hustle and bustle during the summer months, locals in Rovinj welcome guests with open arms! Some travelers even describe the old city as having the world's best hosts! Convinced yet?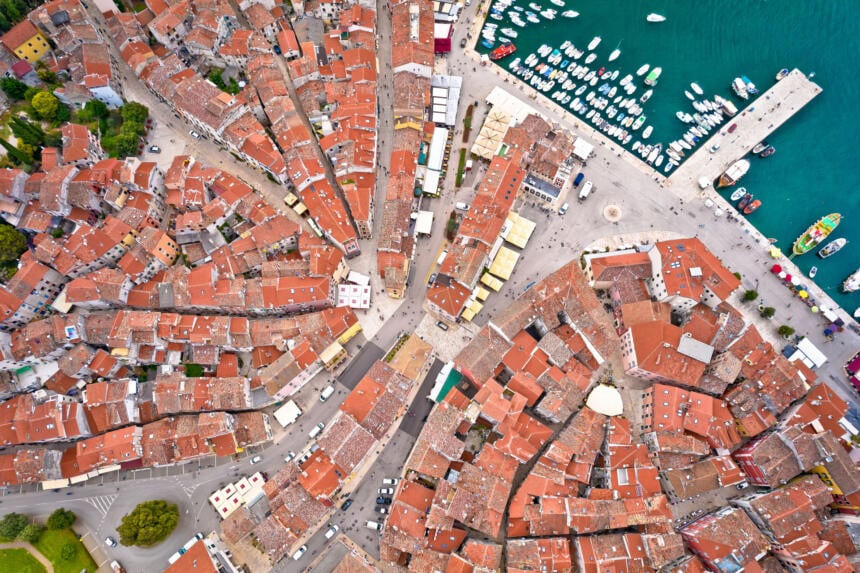 10. Family Friendly
In today's fast-paced world, it's always nice to travel and unwind with family. Rovinj is known for its family friendly accommodation and activities. With water parks, playgrounds, and stunning views, Rovinj and the areas in its vicinity are enjoyable for both young and old!
If you're still unsure whether you should take your kids sailing too, we have a blog for you. Read it here.
Are you ready to start planning and book your family vacation in Rovinj this year? Reach out to our charter team now.