How to cook like a pro onboard?
We bring tips and tricks on how to enjoy cooking aboard our boats and yachts (for your always hungry crew) while experiencing fabulous holidays in Croatia and exploring natural, cultural and culinary delights of Croatia.
Sailing in Croatia and visiting all the breathtaking sights of the Croatian coast makes an average sailor hungry. While you should definitely visit some fine restaurants and discover flavors of Croatia bear in mind that cooking on board a boat can be fun and not at all complicated – the key is to plan ahead. Planning is crucial especially regarding any diet restrictions that your crew might have and to be sure to have everything on board before the boat leaves our marina. We bring you some general tips and notes to help you prepare better.
Preparing meals on board our catamarans will not be so much different than your average day cooking since the galley is excellently equipped and there is plenty of room. Sailboats and smaller motorboats may be a bit more challenging.
Important information on our boats and the Croatian coast
all boats are equipped with ovens and refrigerators and most of them even freezers
we can also provide a coffee machine
even in the smallest villages there are stores with all the necessary groceries (fresh bread, milk, butter, oil and similar)
bigger towns on the coast and on the islands have a green and/or fish market with excellent selection of local products – fruits and vegetables and fish and mollusks and the best time to check out their offer is early in the morning between 7 and 8 a.m., before you've had your coffee or croissant
bigger supermarkets with all kinds of vegetables and meat for selection are also quite common even in small towns
catching fish on your own may be fun but make sure to have your licence (can be acquired on the Ministry of agriculture, Department of Fisheries)
everything can be preordered (bottled water, wine, soft drinks, beer or other heavy stuff as well as all the small stuff such as flour, eggs, dairy products) and delivered to your boat before your arrival
Here are some ideas for planning your meals
Breakfast
French toast, eggs, bagels and fresh bread with bread spreads, ham, salami and cheese, 2-3 kinds of cereals, milk, tea, coffee.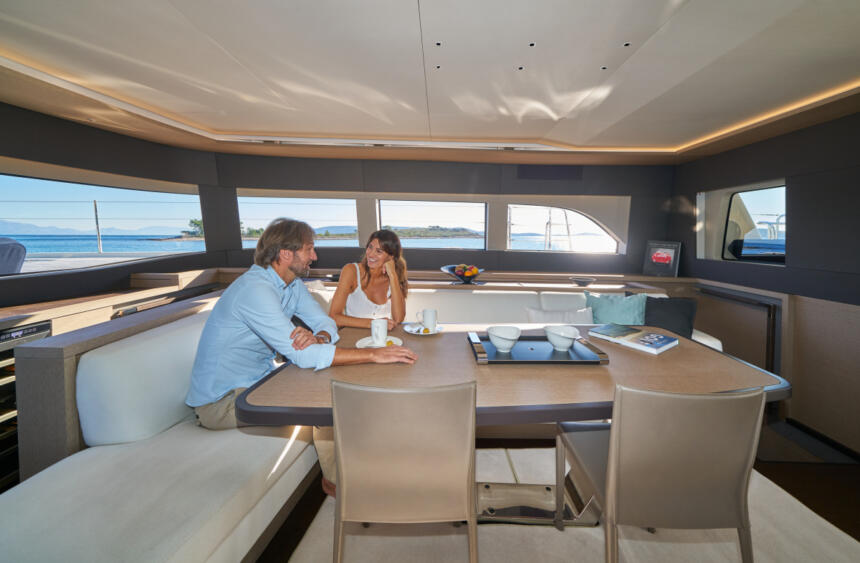 Lunch
(many Croats cannot imagine a lunch without soup but on board it is a bit more difficult to make a soup every day so we believe nothing bad will happen if you skip soup every day, although fresh white fish simply calls for a boiling bath)
Pasta with sauces – salsa, mushrooms, zucchini, bolognese
or risotto with a variety of combinations available since the area is rich in vegetables and fish even in April,
or a simple and light salad with smoked or salted fish (available at practicaly any market)
or chicken with rice, grilled fish, grilled meat and vegetables, fried sardines with chard and potatoes
+
Salads (green salad, lettuce, rocket, rapunzel, tomatoes, peppers, raddish, spring onion, potato salad)
Snacks
Pancakes, crepes, fruit salad with whipped cream, sandwiches, yogurts,
you should definately try Croatian platter with some local cheese, prosciutto and olives and plavac wine (don't let different names of the wine confuse you – it depends on the locality but it is the same wine sort)
Don't forget to taste the sweetest mellons and watermellons (thanks to sunny and warm summers in Dalmatia)
We recommend you explore Croatian cuisine in the evenings because you will probably be a little exhausted from all the swimming, sailing, exploring and maybe even cooking and doing the dishes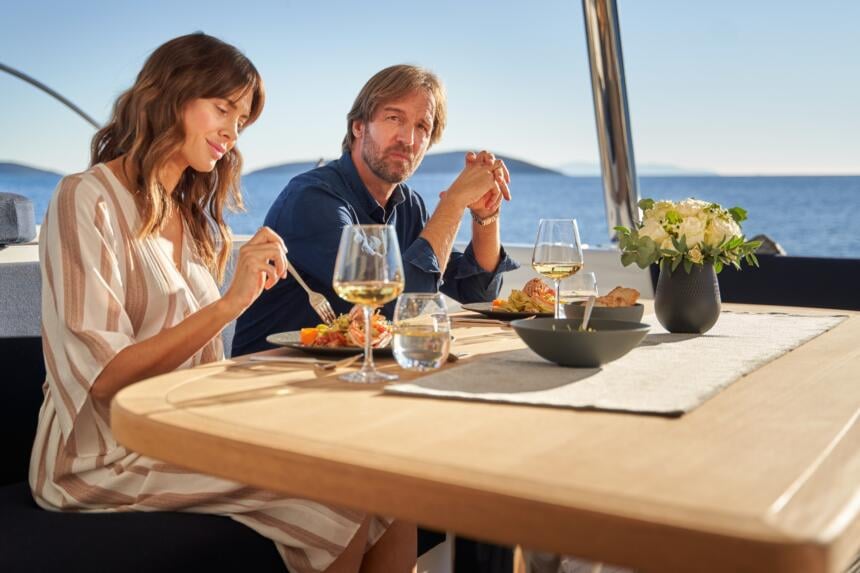 Other small tips:
all-day interaction with the sun, sea and waves tends to open up apetite so be ready for those hunger surges
prepare anything you can in the morning before you set sail or start engines to your next destination (for example sandwiches or sauces, wash vegetables etc.)
fresh food and expiry date food first then canned and similar food, leftovers are king!
plan meals that require less dishes to prepare
leave a tapas meal for the last day and include all that is left on board and enjoy a goodbye feast until your next cruise
keep in mind storage space is limited and electricity issues (if your boat is not equipped with a generator)
if you have kids on board – include them in the process (older ones can try chopping ingredients younger ones can bring stuff and help stirring or setting the table)
canned beer is easier to store and cannot break like bottles
water supplies – you should plan approximately 2 l of bottled water per person per day and store it on board before departure. Get big 5 L water canisters in shops to reduce plastic waste. It would be good if every crew member had his/her own glass or thermos bottle to refill several times during the day. If not they can also use glasses.
There is of course the possibility to hire a hostess in which case most of these issues would be her job and she would most definitely make your sailing experience in Croatia a memorable one. Learn more on what the hostess does on board in our previous blog post.