Best things to do in Rogoznica
Quiet and warm Mediterranean small town of Rogoznica is an ideal place for a vacation with your family or friends. Sailors love it, too!
Quiet and warm Mediterranean small town of Rogoznica is an ideal place for a vacation with your family or friends. Sailors love it, too!
This charming town is one of the most beautiful and safest anchorages of the Adriatic. In addition, Rogoznica has over 2600 sunny hours a year which is a great bonus as well.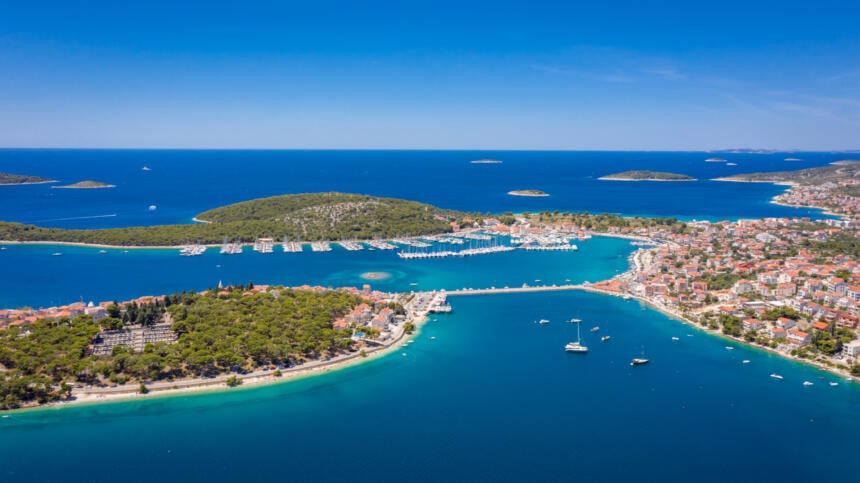 Events
The Tourist Board of Rogoznica organizes different events in the summer months. The streets of Rogoznica exude a special atmosphere.
The return of the painting of Our Lady by boat from the Parish Church to the Chapel on the Gradina peninsula is a 240-year-old tradition that takes place in Rogoznica every year. Furthermore, it is always accompanied by a procession on land and at sea.
Aquathlon Rogoznica in June is popular among sport lovers. It's a combination of running and swimming and has categories even for the youngest.
Likewise, art exhibitions, concerts, and operas regularly take place in Rogoznica in the summer.
Nature
The center of Rogoznica is situated on a peninsula. The old stone houses add to the authentic Mediterranean atmosphere. Most parts of the peninsula are covered in pine forests. As a result, Rogoznica is ideal for hiking and recreation.
Beaches
Rogoznica stretches along almost 50 km of the coastline and has countless, mostly pebble, beaches. Every settlement offers a unique bay with a hidden beach. Surely, even the most demanding visitors will find their idyllic spot under the sun!
Dragon's Eye Lake
This lake is a unique natural phenomenon of the Eastern Adriatic. It is surrounded by vertical cliffs that go up to 24 meters . The lake is situated on the Gradina peninsula just between Soline and Koprisce bays.
Every few years, layers of water mix and it seems like the water is boiling. Although there is now a scientific explanation, in the past the locals made up their own. There are many legends about various creatures that inhabit the lake. However, the two most popular ones involve a dragon, hence the name.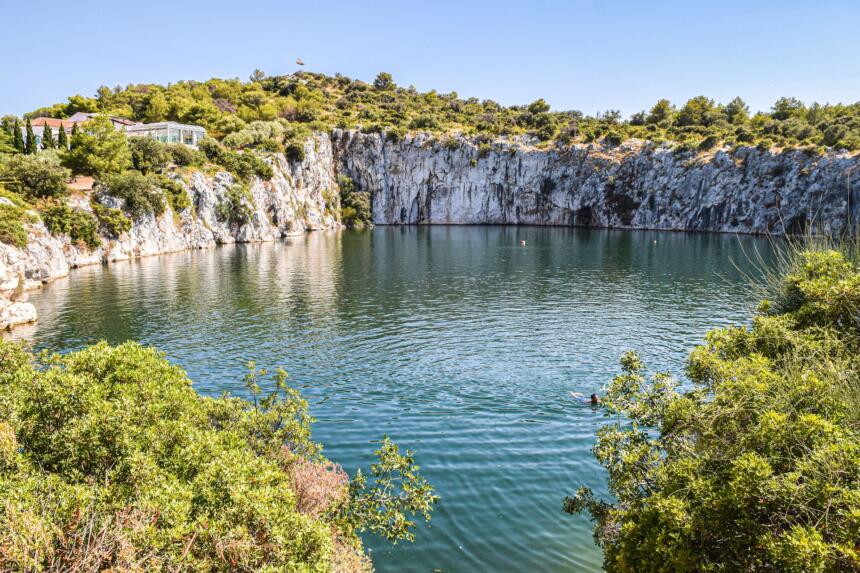 Cape Planka
Only 2 km southeast of Rogoznica cape Planka is located. It is the most jutted point of the Eastern Adriatic land. This cape separates South and North Adriatic. It's where the south and north winds, cyclones and anticyclones, the sea currents meet. This results in the impressive, not-to-be-missed nature spectacle!
Thus, Cape Planka is the reason why it almost never rains in Rogoznica. For example, Split (55 km away) and Sibenik (38 km away) have approximately 3 times more rainy days than Rogoznica.
National Parks
Krka
National Park Krka, situated on the Krka river, consists of 7 magnificent travertine waterfalls. The park is only 40 kilometers away from Rogoznica and you can go as far as Skradin by boat.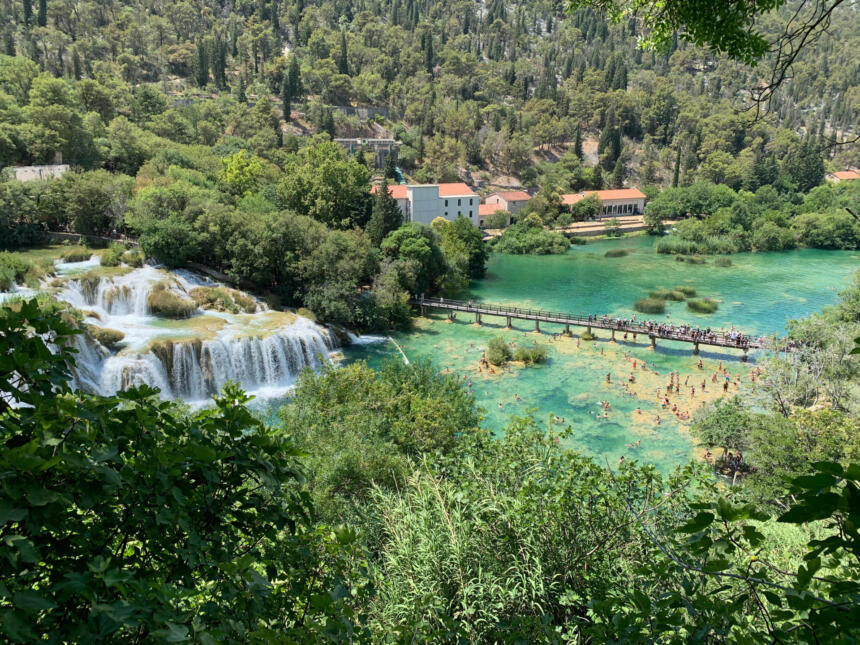 Kornati
The National Park Kornati is only 20 NM North of Rogoznica. It's a unique archipelago of 89 uninhabited islands, islets, and reefs. They spread out over 70 square kilometers. The Kornati islands have many lighthouses. The most popular ones are Blitvenica and Sestrica.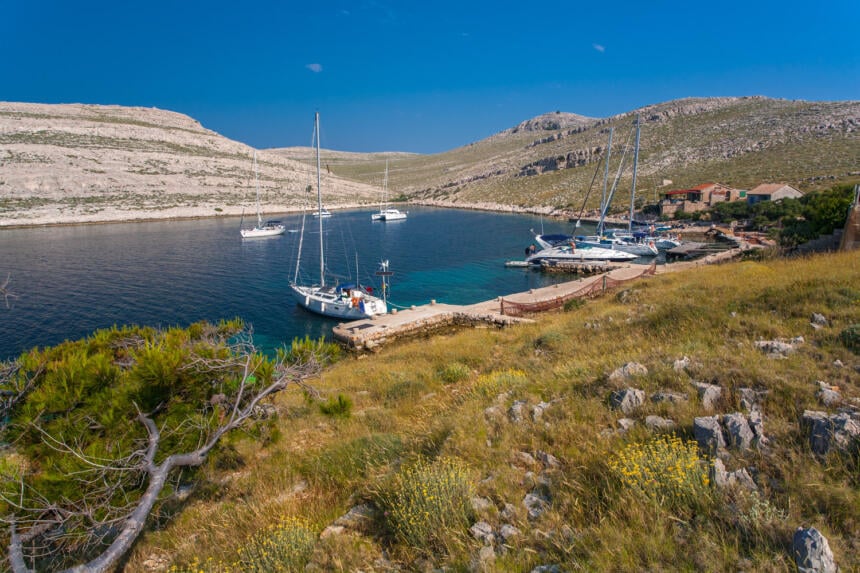 Moreover, we recommend visiting the adjoining Nature Park of Telascica, as well.
Sports and recreational activities
Sailing
Rogoznica is one of the best starting points for all sorts of sailing routes. The possibilities are truly endless! To the immediate north, you have the Kornati islands, Tisno, Sibenik and Primosten to sail to. And if you sail south, Trogir and Split are a must-visit.
And of course, there are numerous islands you shouldn't miss out on. Zlarin, Kaprije, Murter, Zirje, Krknjasi, Peljesac, Lastovo, Korcula, Vis, Hvar, Solta, Brac… We could go on forever!
Cycling
If you are looking for something more to add to your sailing vacation, you're in luck! Rogoznica has many bike trails. They pass through quiet villages and offer incredible panoramas.
Diving
The sea is shallow, warm and salty, which makes it perfect for diving. Additionally, the abundant marine life of Rogoznica has many exciting diving sites. There are caves, tunnels, crevices, sheer walls, cliffs and reefs that will captivate you immediately.
Keep in mind all the places where diving is not allowed such as harbors and moorings, areas with heavy boat traffic, nature reserves, and nature parks.
Fishing
Do you enjoy fishing? Many anglers love fishing in Rogoznica. The prize catches are usually tuna and Marlin, maybe even wild sea bass. So, if you're interested in Big Game Fishing, you can reach out to our charter team via charter@navaboats.com. Our professional instructor will teach you all the secrets.
Marina Frapa Rogoznica
Marina Frapa, one of the best equipped marinas in the Mediterranean, is our newest charter base. It was awarded 15 times as the best Croatian marina and has some international awards, too. There's hardly a better place to dock your yacht than Marina Frapa.
You may be wondering why. Well, where to begin?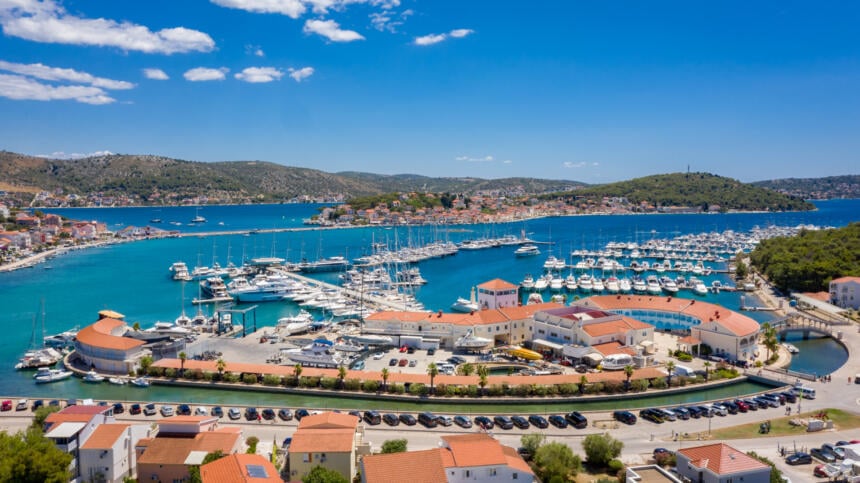 Berths
There are a total of 462 fully equipped berths in the sea. And if you're sailing with Nava, you get nothing but the best! We made sure to position the Nava boat fleet inside the marina perfectly. Therefore, you will avoid any crowds and hassle of sailing out/in that often occurs during high-season.
Gastronomy
The restaurants in the Marina are a perfect combination of traditional Dalmatian and international delicacies. Hence, if you're looking for local specialties, Restaurants Ancora or Restaurant Konoba are perfect for you.
However, Sushi & Teppanyaki Bar features a famous Asian culinary show called Teppanyaki. Pizzeria Domina offers a taste of the Italian cuisine.
Finally, if you're just looking for a simple snack, there is the Pastry and Ice Cream Cafe, as well. Of course, we must not forget Dragon's cave, a unique underwater attraction with a sea view.
Facilities
Frapa has everything you could ask for in one place. There's a market with a wide range of supplies for your boat. There is also a laundry room, exchange office right next to the reception, private parking, car rental and even a Tesla charger for your electric vehicle. The complex also has a boutique, nautical equipment store, and a souvenir shop.
And of course, the center of Rogoznica has all the other amenities you may need, such as a post office, ATMs, shops, pharmacy, ambulance, and restaurants.
Contact our charter team
Start your dream cruise from Rogoznica! You can even opt for a one-way charter from Rogoznica to Split or Slano.