Guide for bare boat charter in Croatia
We hope this little guide helps you prepare for bareboating in Croatia and lets you experience the best of what the Croatian coast has to offer.
Bare boat charter in Croatia is a great experience. Skippered or crewed charter is relaxing and carefree and bareboat yacht charter in Croatia is a bit more demanding but fascinating and adventurous. The cruise is completely in your hands. If you are interested in bareboating charter in Croatia, you must have lots of questions, so here are the answers. 
When should I go?
The most popular season for bare boat sailing in Croatia is, of course, during summer. If you plan to book a bareboat in Croatia in July and August, make it sooner rather than later as the best boats get booked earlier . By March there is only a week here or there still available in high season. So you need to be more flexible with dates or be extremely lucky. The weather is really warm during these months, or too hot some might say, so you'll be seeking refreshment in the sea, a lot.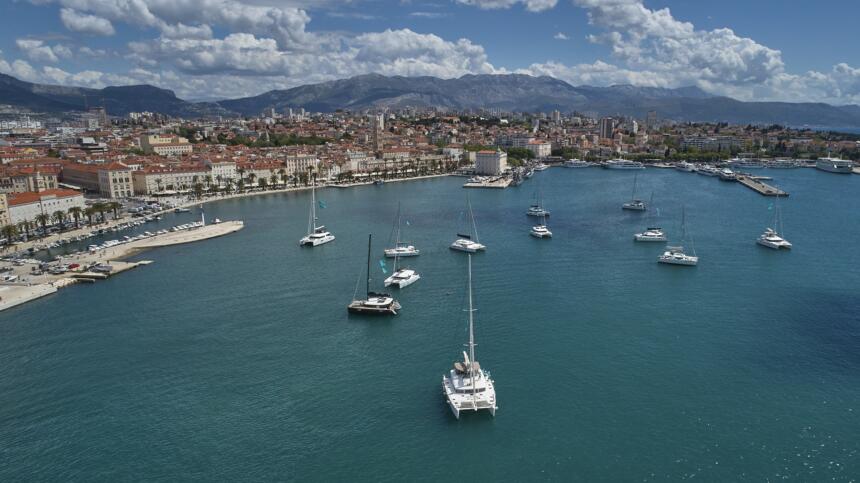 Have in mind, though, that the sun is almost always shining from April until September. For those seeking a quieter cruise in Croatia, consider May, June and September and April and October could also be quite appealing. The off-season sailing conditions are much better for sailing aficionados. Bare boat yacht charter in Croatia or catamaran hire is also more affordable outside peak season.
What else should I consider when booking?
Arrival
Book your flights well in advance to ensure your seats and good prices. In fact, Split, Dubrovnik, Rogoznica, and Pula airports are well-connected to all major European cities through some of the usual airlines. For instance; Smartwings, Eurowings, SAS, Finnair, Norwegian Air International, Volotea, EasyJet, Ryanair, Vueling, KLM Cityhopper, Transavia, Eurowings, Lufthansa, Iberia, etc. Just let us know if you need us to organize a transfer from the airport to our marina for you. 
If you are planning to arrive by car, make sure to plan the route and take traffic jams and delays into account, expect several kilometer-long queues in high season. For parking guidelines, check each base about costs to expect or recommendations.  
Insurance
While booking the flights consider taking travel insurance as well. The charter boats are, of course, insured, however, leaving a security deposit in the amount of the franchise is necessary during the check-in procedure. That's why it might also be a good idea to get a damage deposit waiver insurance for your charter with your local insurance agent. Moreover, this way you'll be able to sail away ready for any circumstance and insured no matter what.
Where should I go?
With our four charter bases – one in Split, the second in Slano (at 35 km from Dubrovnik), the third in Rogoznica, and the fourth in Pula, the sea is the limit. Needless to say, it is good to have a planned sailing route. Choose from one of our suggested sailing routes or ask for our help in planning your own.
You can change your itinerary anytime, but it's better to have something planned to minimize wasting time and stressing on board. This way, you can continue sailing towards your next destination and plan changes. Without a doubt, a good sailing route plan makes visiting everything that you want to see much easier.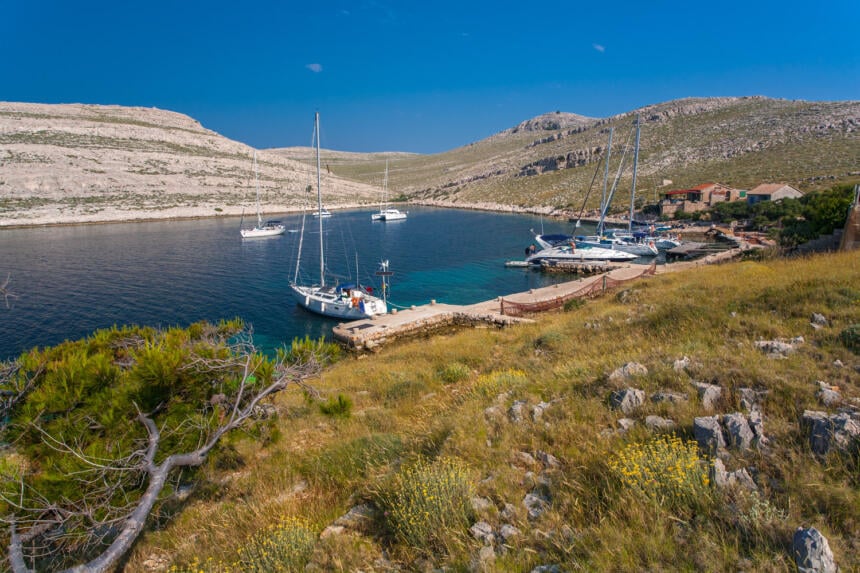 What licenses and certificates are required by law for bare boat charter in Croatia?
In order to be able to rent a bareboat, at least one person on board should have a valid nautical license and a VHF license. In Croatia, these licenses are issued by the Port Authorities. Here is the list of valid and accepted licenses for bareboat charter in Croatia. Please bring your original documents with you on board.
You will also need a crew list. Please, fill in the crew list link we send you or send us all the information of each crew member at least one week prior to your arrival. We require: name, date and place of birth, passport numbers, nationality, and place of residence of all your crew members before your arrival in order to speed up the embarkation process. At check-in procedure, we just confirm the crew list with you and print it out and insert it in the boat book along with other important boat papers (boat registration, insurance policy, radio frequency registration). 
Budget
It's good to know how much it costs to charter a yacht to sail the beautiful Croatian coast.
Boat rent
The majority of the total budget will be the charter price. It depends on the boat type, size, model and year of production. Here is the full charter price list of all our boats. The additional obligatory cost we charge with the boat price is final cleaning (comfort package for catamarans) and it depends on the boat size and type. Visitor's tax (sojourn/tourist tax) is another obligatory cost that we charge during the check-in procedure at the marina and it depends on the number of persons staying on board. The cost is 10 HRK (1.35 EUR) per adult per day, 5 HRK (0.68 EUR) for teens and free of charge for kids. 
Fuel
…is next. This expense depends on your vessel's consumption. The amount of fuel you will need also depends on how much you want to travel per day instead of staying at the same place and on the type of the boat. Obviously, sailboats consume the least. That is, between 4 and 10 l per hour. Catamarans consume between 8 and 18 liters, and motorboats between 70 and 150 liters. And let's not forget that sailboats and catamarans sail and can, therefore, save you significant amounts of fuel (and money). From 200 to 500 € per week is the expected cost for sailboats and catamarans. Motorboats are harder to estimate because the cost depends on the engine power, speed, and the route you select. However, bear in mind that running the generator and the air condition (on boats that have them) means additional fuel costs. 
Provisioning
You also have to eat while sailing, and usually, everyone is much hungrier when on board. There are two options; preparing your own meals on board or eating in restaurants. You will probably do both. Be that as it may, you might notice that groceries are a bit more expensive in Croatia. In particular, the prices are even higher on the (most popular or the most remote) islands. When it comes to drinking, be careful with alcohol. The designated skipper should avoid it when sailing. But when at anchor for the night, he/she can indulge in a glass or two. It would be a total shame not to try some of Croatia's excellent wine sorts. In any case, your food budget should be anywhere between 100 and 200 € per person per week. Learn where to supply your boat in our main base in Split and second base in Slano. 
Mooring fees
The last expense that you should take into account with any charter, are mooring/docking fees. The fee depends on where you are mooring, how long (hours or days), the size (length and beam) and the season. Mooring a small to average boat (around 12 m long) for one day will cost you from 55 euros to 120 euros. These are prices from June to September. During the rest of the year, the cost is lower. That is, the average price for a day is approximately 65 euros. Don't forget prices for catamarans are usually 50% or even 80% higher than for mono-hulls. Mooring in small coves is typically much cheaper or even free. That is, if you go out for dinner in the local restaurant that tends to the buoys or mooring lines. 
For more details on the yacht charter costs, check out our blog on what does it cost to charter a yacht in Croatia.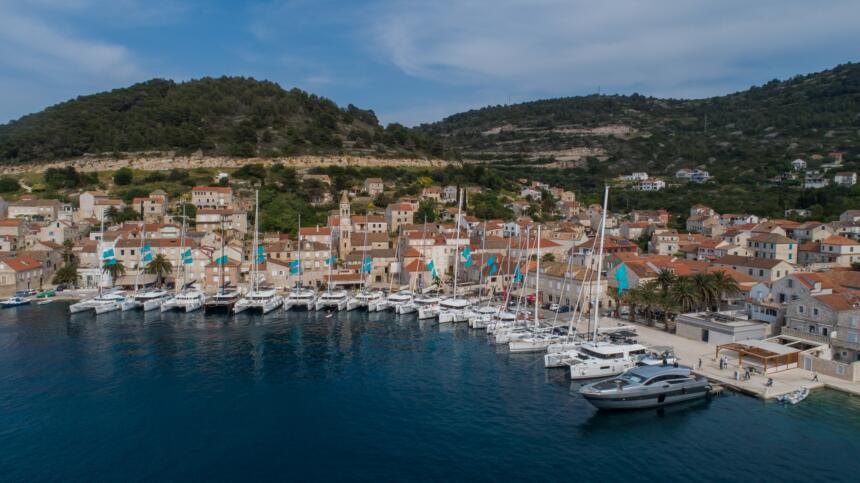 Plan activities off-board beforehand
Bareboat sailing in Croatia is great for tasting Croatian food and wines in restaurants, family farms or buying in small shops and at local markets. Other suggestions and ideas are: SUP, scuba diving, snorkeling, wine tasting, hiking, caving or canoeing excursions with local guides. In order to plan your sailing route better, and also to stay in budget, it's better to know in advance what things you would like to do and where. We offer SUPs (stand up paddle boards), snorkel sets, water skis, jet skis or kayaks for rent in our bases, so you can explore the immediate surroundings at your own pace every time you drop your anchor.
If you have more questions or information you need about bare boat charter in Croatia, feel free to contact us at charter@navaboats.com. Undoubtedly, we'll be happy to help you plan your bare boating vacation in Croatia by finding you a fine boat and arranging all the details with you.