Weather in Croatia During Vacation Season
Wondering when is the right time to sail in Croatia? Read more on the weather in Croatia that might help you make the right decision!
Learn more on the weather in Croatia, a small Southeastern European country. It covers a small area of land but is best known for its coastal experience, breathless ocean views, and scenic beauty. It is a well-known tourist spot and a honeymoon destination and perfect for sailing.
The Croatian coastline is beautiful and enchanting, and most travelers head straight to the Adriatic Coast.
Mostly, they pick a popular destination on the coast or one of the most famous islands, such as Hvar, Brac, Korcula, or Vis, and spend their vacation there. Croatia offers an amazing old town vibe with its historical monuments and turbulent history. Watching sunsets on stunning beaches and swimming in hidden coves is on every travel lover's list. But, if you choose to charter a boat, you get to enjoy and explore more in just one or two weeks. Imagine changing your view at least once or twice a day and dipping into the crystal clear sea whenever you feel like it. We at Nava charter Croatia make all this and more possible.
Best vacation seasons
We recommend chartering in Croatia in one of the two low-seasons: from May to June or September to October. In these months, the weather in Croatia usually brings mild temperatures and plenty of sunny days perfect for enjoying a sunbath on the beach or the deck of your boat, and a refreshing swim in the sea. Sightseeing is even more enjoyable because of pleasant temperatures unlike really hot summer days and nights in July and August.
In both these periods, the air temperature remains within 15 to 25 degrees centigrade. From May till June the sun is shining on most days, and coastal Croatia receives only 75 mm of rain in a period of 6-10 days. Seawater temperature is cooler in May around 18°C but grows to be 22°C in June; such water temperature is perfect for a dip.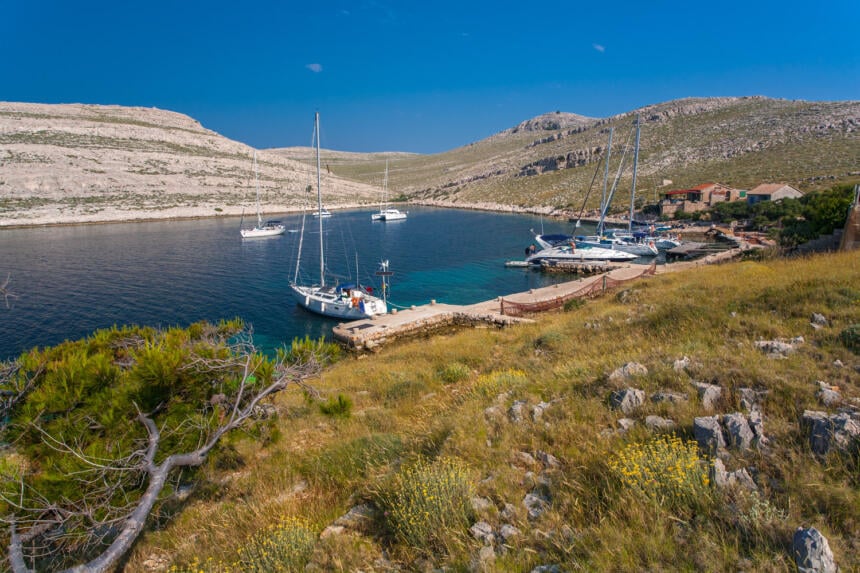 In September and October, a cool breeze makes better sailing conditions, and the seawater temperature is still warm enough for a swim at approximately 23°C in September. In October, the rainfall increases and reaches 162 mm in about 11 days. October in Croatia is a perfect mix of cool and warm days.
Croatian Climate
Being part of the Mediterranean region and climate, coastal Croatia usually has dry, hot and warm summers and wet winters. The weather in Croatia remains somewhat moderate throughout the year, there aren't that many extreme weather changes. That's why it's a great destination all year long. Summers often turn into long Indian summers and visitors get to enjoy fine weather deep into the autumn months, too.
Peak Vacation Season
Although it is very hot in July and August, most travelers come to enjoy the warm summer Mediterranean weather, especially along the beautiful Croatian coast. The weather is hot and dry with almost no rainfall in these months. In short, perfect for enjoying days at the beach and water activities, such as water skiing, SUP boaring, snorkleing. Beachwear is simply a must. Air temperatures vary from 20°-30°C whereas the water temperature rises to 25°C and above.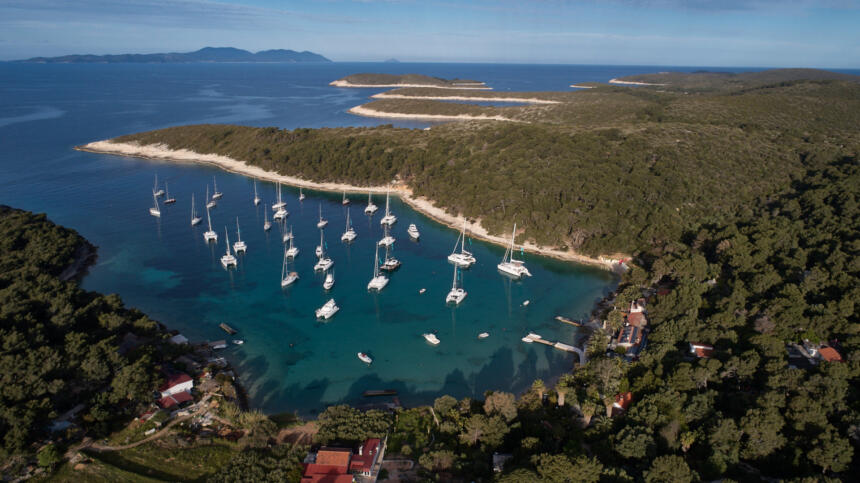 Off-season
October to March is known as the offseason in Croatia. Some destinations are then closed. Most tours and vacations are not planned in these months, so it gets really calm. People who enjoy peace and quiet chose to visit Croatia specifically in this period. They get to enjoy a mild winter and historic city cores of Dubrovnik, Split or Zadar without excess crowds.
Chartering in those months must be planned well ahead in order to ensure the availability of the boat. In this period most boats are "winterized" and then slowly prepared for the boating season. In general, the winters are mild, but extreme weather conditions are more often than in the low and high seasons. Sailing in the off-season requires careful planning and heeding to all weather warnings, without exceptions. Most small restaurants and taverns as well as some marinas and sites are not open so you will need to adjust the route accordingly.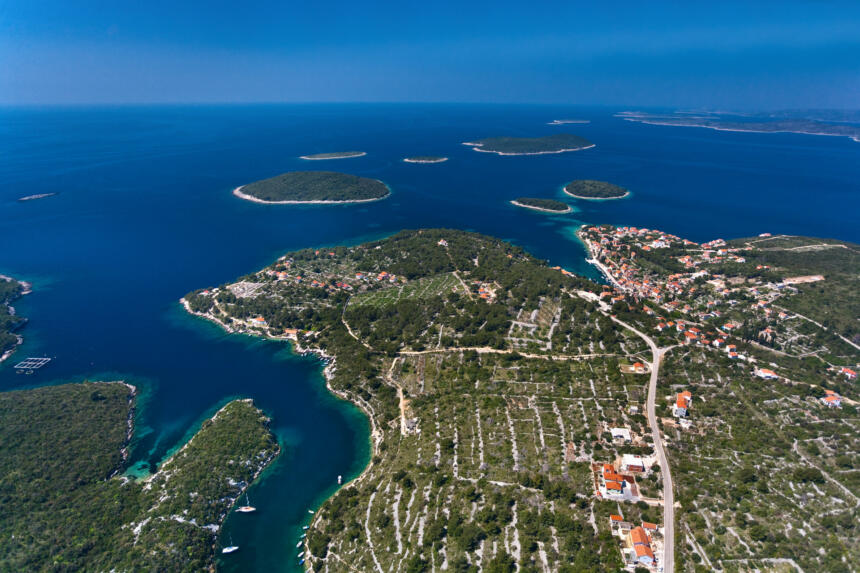 We really do have fine weather in Croatia most of the year, so don't hesitate to contact us if you have more questions. Or, if you are wondering which season to choose for you and your crew. We're happy to help you any way we can!
Start sailing with Nava! Email our charter team to request you offer.