The ultimate packing guide : Sailing in Croatia
What to pack, what not to pack & useful tips to ensure your perfect sailing vacation in Croatia!
Sun on your cheeks, foamy sea waves, gentle vibration of seagulls' squawks, plenty of silence, fresh air and… well, wait a minute! – Before achieving all of this, you have to pack your oh-no-packing-again luggage! This is what is said to be the worst part of holidays. Don't worry though, nothing worth having comes easy. Between chaotically recalling marvelous marine memories one after another and spreading the panic, we warmly invite you to read the following text. Will help!
Sailing must-haves
Suitcase is considered to bring bad luck among sailors. It is preferable to use soft bags with wheels or Duffel bags when packing. You can easily keep them in lockers on board. Everything you bring on board, must fit in your cabin. Storage is very limited, pack a few days ahead – so that you can have a good look at everything and evaluate what you really do and do not need. First of all – bring little! You can leave any unnecessary items or luggage at our marina and pick them up when you return (according to availability of storage space).
1. Paper stuff
Especially when you are going on sailing vacation abroad, you should remember about:
valid ID card/passport or visa and a copy of it
sailing certificates and VHF license
driving license, in case you would like to hire a car (in Croatia available above the age of 21)
travel insurance
cash / credit / debit / prepaid cards – pack them in different places in case one gets lost, damaged, stolen. Check to see the total cost of using an ATM abroad and what your daily limit is
enough currency cash (EUR) to get daily supplies when needed
2. Clothing
Remember, comfortable is much more important than stylish!
swimwear and a change of it
beach towels (you can also rent them at our Nava marina to save precious luggage room – they only cost 5 € a piece)
casual period-adjusted clothes such as a windproof and waterproof jacket and a hoodie (they might come in handy since the waters can be treacherous); for women a sarong could be useful
sailing hat that stays on and has a chin string or another headgear to avoid a sunstroke
sailing gloves might come in handy
sunglasses with a neck cord
You should pack non-slip shoes – a designated pair for boat use only. All-terrain open footwear for walking on land might prove to be useful. Reef shoes are good for walking around on the boat, they are quite cheap and handy if you swim ashore and then walk along the shore. No street shoes are allowed on board, using the same pair of shoes for both boat and land can damage the deck, as pebbles get lodged in the tread and they scratch the boat
some clothes for land use while eating out at night – the attire shouldn't be too formal, so don't take too much
3. Protection
sunscreen (super-waterproof, SPF 30 to 50) plus after sun, a good moisturizing cream, face cream or oil – your skin dries to an uncomfortable condition without it
lip balm with SPF 15 or better
a wide-brimmed hat (and a cord to make sure it stays on your head rather than fall over board) or a cap
toiletries (shampoo, shower gel, soap; in small plastic travel bottles)
prescription medicines and alert your crew if you have any allergies (e.g. bee sting or peanuts and always have medicines for such emergencies and introduce your crew what needs to be done if such occurs)
a basic first aid kit is already on board (band-aids, aspirins, motion sickness pills, gauze, waterproof band-aids, gloves, scissors etc.) but you must bring your own personal medications and you may consider adding ginger as a great natural treatment for motion/sea sickness. For instance ginger cookies, candied ginger and there's no need to feel guilty over how much you've had! Many people find wrist seabands effective. We do not recommend the patches – they are too strong, and you may suffer more from the treatment than the seasickness itself. Herbal teas might also get you going again. We also recommend bringing insect repellent, anti-histamine for insect bites, antiseptic cream. For bruises and strained muscles – Arnica cream which is a homeopathic and painkilling remedy works perfectly.
4. Food
closed insulated sports type water bottles (tap water is safe for drinking in Croatia, however the water from boat tanks is not recommendable for drinking) – you must drink all the time to prevent dehydration. You will require much more water than usual because you are not accustomed to being in the sun and wind all day long. You can pre-order water and other supplies and have them waiting for you on board when you arrive, or buy them upon arrival.
if you have special dietary needs, buy supplies before reaching smaller islands
bring your own cotton (or similar) reusable grocery bags to keep the plastic waste to a minimum. These don't take up much luggage space, and they will save you money in the supermarkets for the single-use plastic bags, plus you'll get to feel good about yourself for doing something to help save the planet. Another tip – pack them where they are easily accessible, so you can take them out once you arrive to our marina and are ready to go shopping.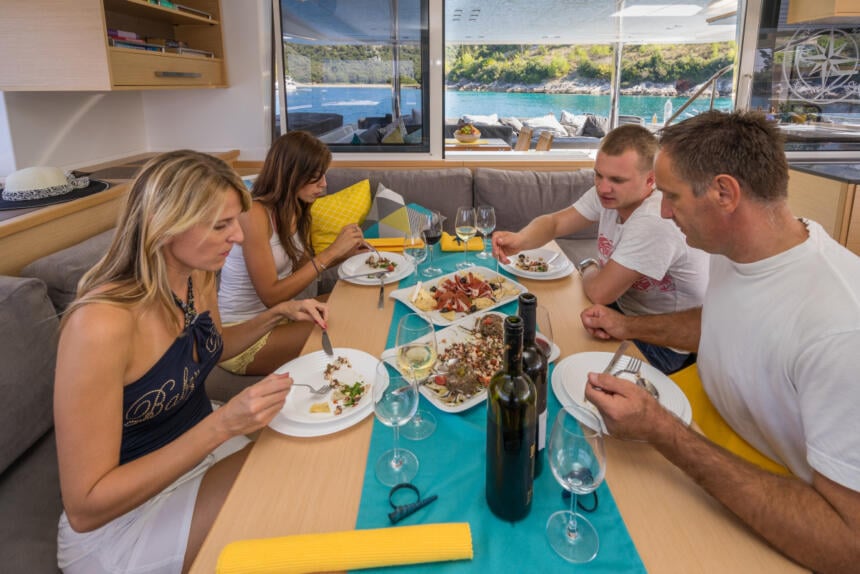 5. Accessories
a dry-sack for taking things ashore
(waterproof) camera with memory card and a charger/batteries
cell phone with a charger (solar chargers are perfect)
books (e-book to save space), deck of cards, games, thumb drives with music
LED lamp
snorkel, fins and googles for snorkeling if you have your personal gear that you are used to, or you can also rent some at our Nava marina if you want to save room in your luggage (15 € per set)
What not to pack:
a hairdryer – it is available on the spot, just ask the Nava team or maybe try beach-waves-hairstyle that is quite popular
heeled shoes, as they could damage the deck
precious jewelry – it gets broken or lost on board
bed linen (all boats are fully equipped)
bath towels – we provide 2 large and 1 small towel on board
if you want to save extra space in your luggage: you can also rent beach towels with Nava (at 5 €/towel)
one more time: bring less! Do not take more than one large or two small soft sided bags, Duffels or backpacks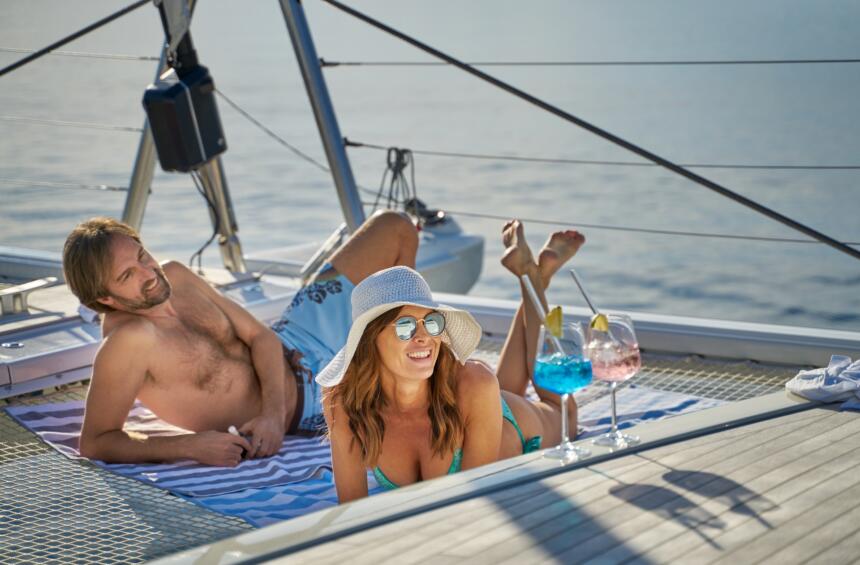 Issues worth noticing:
remember about the dress code: it is not polite to wear bathing suits into town, restaurants etc. (some municipalities even have fines for walking in bathing suits)
obey the sailing procedures
keep the sea clean
in case you need help, contact our Nava team through our VPN mobile on board or call 112
There's nothing left to say but – enjoy your freedom on board!