Rent a Catamaran in Split
Rent a catamaran in Split and explore Central Dalmatia under sails. Enjoy the comfort, space, and safety of the best multihull – Lagoon cat
Rent a catamaran in Split with experts on catamarans. Nava Charter was the one that first introduced catamarans to the Croatian charter market back in 2001. And not just any catamaran! But Lagoon catamaran! It's the leading brand of catamarans in the world.
Lagoon catamarans
The Lagoon started in 1984 as a part of a project for developing and producing record-breaking racers, monohulls, and big multihulls. Another interesting fact is that Lagoon also developed the trimaran for the movie Waterworld. The (in)famous post-apocalyptic movie starring Kevin Costner.
Nautika Centar Nava recognized the potentials and qualities of comfortable catamarans. In other words, now even the less able sailors and non-sailors could enjoy the thrills of sailing. With our headquarters in our main base in Split and a wide selection of crewed and bareboat catamarans, sailing has never been more accessible.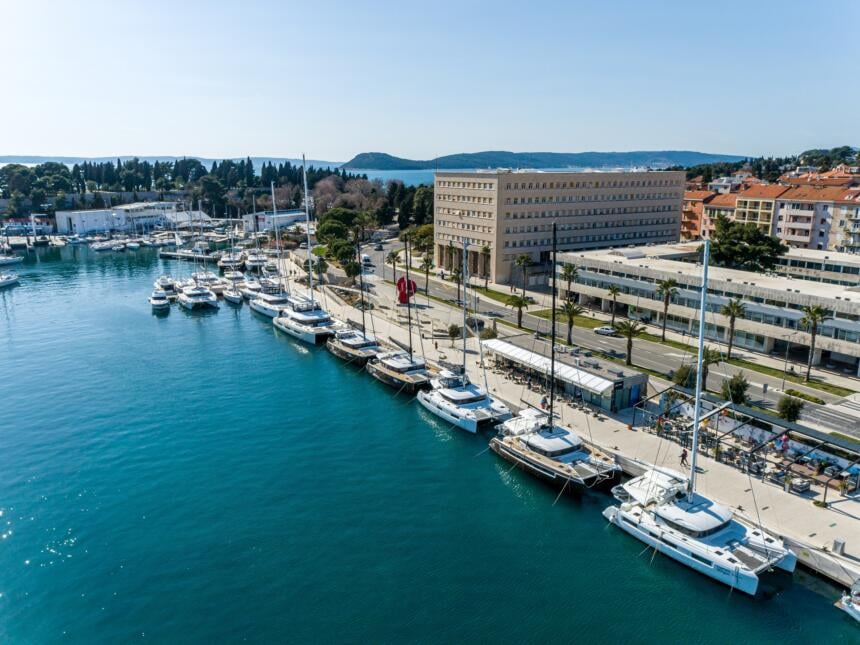 Do you like sailing fast, in comfort? Are you fond of big spaces? Do you appreciate maximum safety for yourself and your family? Are you ready to get up close and personal with the most beautiful beaches and bays? This is all a catamaran offers – speed, extreme comfort and plenty of space. Moreover, the shallow draft will get you close to each destination. Most importantly, safety is incomparable to mono-hulls. In addition, if you are not a fan of rocking at anchor then you are ready to rent a catamaran.
Rent a catamaran in Split and meet Central Dalmatia
So take your pick and rent a catamaran in Split and start planning your cruise. If you are not sure what kind of catamaran you are looking for just let us know and we'll be happy to help.
Our booking team needs to know your dates (and if these are flexible), the number of persons or catamaran size, budget, anything in particular you want onboard (air-condition, ice-maker, generator and similar. Send us a quick e-mail, or give us a call (at +385 21 407 700),!