Online Berth Booking in Croatia
We've compiled a list of marinas, websites, and mobile applications where you may book a berth for you online. So keep reading!
Finding a berth might be a challenge especially during the high season in July and August. Larger marinas, such as ACI marinas, provide the option of booking directly through their website or the possibility to send email queries. In addition, online berth booking has been around for a few years.
Most marinas have given some of their berths to online sales portals as a result of the continual expansion of mobile applications and internet sites.
To save you some time, we've compiled a list of marinas, websites, and mobile applications where you may book a berth for you online.
Marinas that offer online berth booking:
1. ACI Marinas
ACI Marina is one of the top and biggest boating tourism companies in Croatia. Needless to say, it is a great place to start new experiences. Just book a berth in one of their 22 ACI Marinas around the Adriatic coast. It's fast and simple, available on the website. You will receive a berth booking confirmation when you pick the marina and date, as well as general conditions and some information on the marina.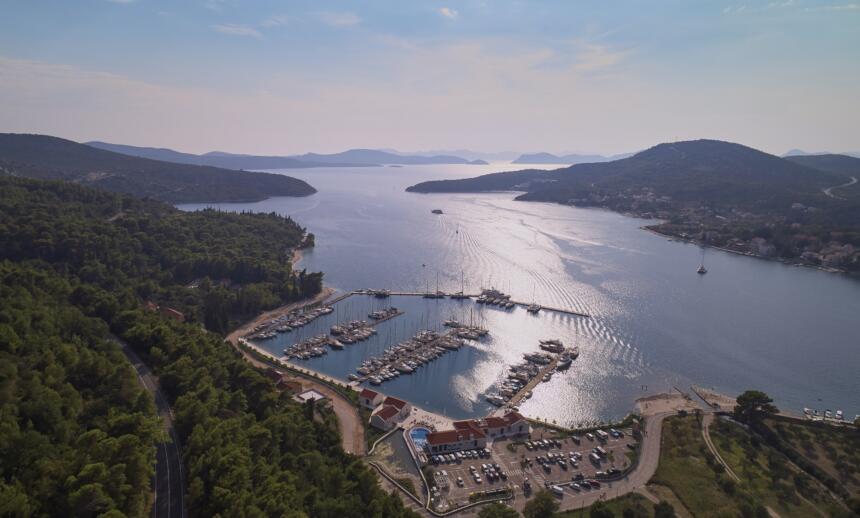 Don't forget that Nautika Centar Nava has a second charter base at ACI Marina in Slano! It's an excellently equipped marina with laundry, ATMs, restaurants, an open-air swimming pool, and a parking lot (charged extra). Sipan, Mljet, Lopud, Slano is the perfect starting point for exploring South Dalmatia. We have here a great selection of boats available for one-way charter to Split, or even Rogoznica! Once you have booked your berth in Slano, you may read our blog "Best ways to get to the ACI Marina Slano".
A one-way charter is actually the best way to experience all the highlights of Croatia and the Adriatic in just one or two weeks.
Note:
You must report to VHF channel 17 before arrival so that the marina staff can lead you to a berth that has been reserved for you. However, if you don't cancel your booking at least 24 h before or fail to arrive on time, your reservation will not be refunded. However, if you cancel in time, the refund is 80%, with 20% being kept as a handling fee.
2. Martinis Marchi Marina
Martinis Marchi Marina is a recently renovated, modern marina located in the picturesque Maslinica harbor on the Island of Solta. It is part of a complex that also consists of a historic heritage hotel and a fine restaurant. In addition, right next to the marina, there is an amphitheater created in ancient Greek style that accommodates up to 500 people. The marina currently has a mooring capacity of 50 boats (up to 40 meters in length).
The marina takes reservations via their website but a reservation is only valid once you receive a written confirmation. But luckily, they respond swiftly to inquiries.
3. Marina Baotic
Marina Baotic is one of Croatia's most modern and attractive yacht ports, located only 8 minutes from the Split Airport, close to the town of Trogir. The marina has 400 moorings for yachts ranging in length from 6 to 60 meters, spread out over 11 jetties. Most importantly, the marina has a petrol station, and restaurant, supermarket, stores, swimming pool, apartments, and a fitness studio are also great perks. If you want to have a reservation, you will need to send an inquiry as well.
4. Marina Kastela
Marina Kastela is a modern Croatian marina on the southeastern coast of Kastela Bay, close to Split Airport. It contains 420 sea berths and half as many dry berths. You can find workshops and services, shops, and restaurants at the marina and the surrounding area. However, you need to send an inquiry to have a reservation as well.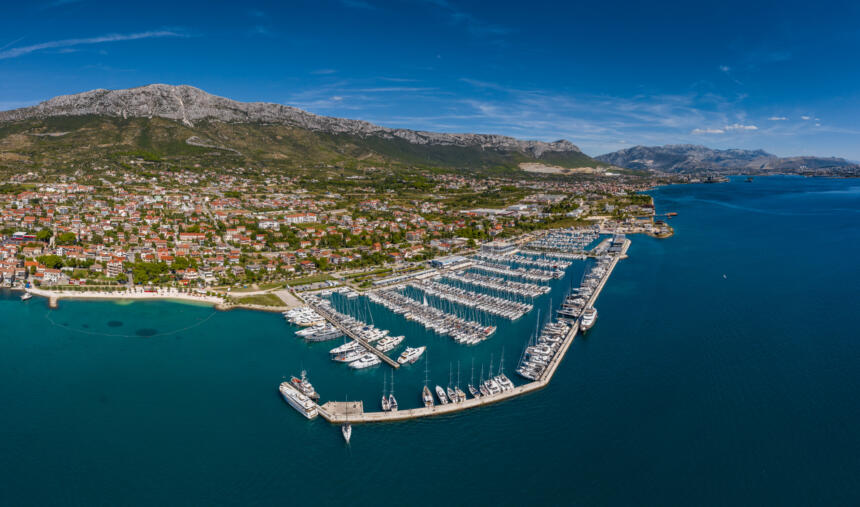 5. Marina Frapa
Located in Rogoznica, between Sibenik and Split, the Marina contains 450 sea berths and around a 100 dry berths. Also, Nautika Centar Nava just opened its charter base in Rogoznica. This way our guests will be able to enjoy and explore North Dalmatia. For instance, Kornati and Krka Waterfalls national parks, along with Telascica nature park, just to name a few. Or maybe Krapanj, the lowest island of the Adriatic, Zlarin, the first Croatian plastic-free island, Prvic, the birthplace of Faust Vrancic, and the list goes on.
In addition, the marina also has a hotel, an outdoor swimming pool complex with a nightclub, a sports center, a restaurant, a petrol station, and a monitored parking. Keep in mind that reservations are only available upon request.
Have you booked your berth in Marina Frapa? While you wait for the check-in, explore the town. Our blog "Best things to do in Rogoznica" should help you get around!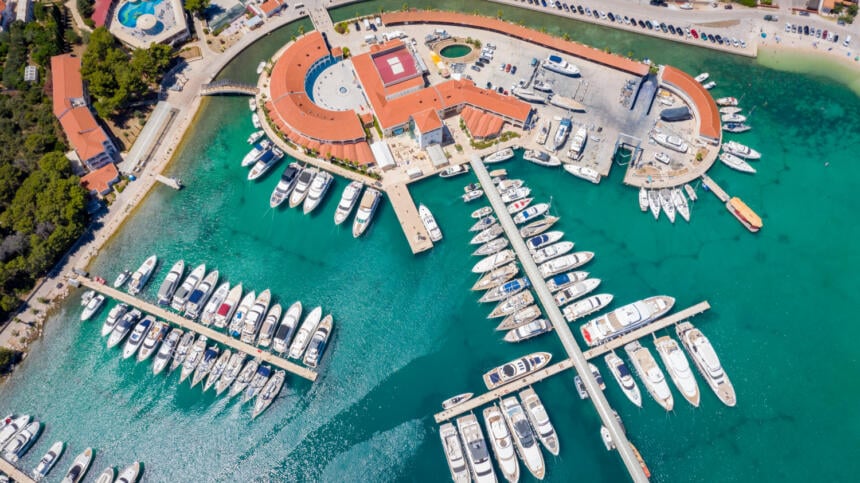 Websites and Mobile Apps for berth booking:
If you would like to try something alternative to connecting directly to marinas or using their online booking options, there are also a handful of apps that are combining all marinas and ports and allow online booking effortlessly.
1. MySea
MySea is a cruising guide mobile and web app with interactive features for the Mediterranean coast, and an online berth reservation system. Almost all marinas, harbors, anchorages, jetties, and buoy fields are available on this app. Fuel stations, cranes, slipways, marine repairers, groceries, restaurants, beaches, chandlers, yacht charters, physicians, hospitals, tourist attractions, and more are all listed on MySea.
2. Marinebook
Marinebook is a website that, in addition to berth bookings, provides a great deal of information about the area and restaurants. Direct berth bookings have been available since last summer. However, the biggest disadvantage of Marinebook is a restricted number of marinas and moorings with direct booking options.
Is there anything more to know?
Please note that when you've booked your berth, be careful to review the terms and determine when you'll need to sail into the marina, as some marinas have arrival limitations.
If you have any questions, do not hesitate to reach out to our charter team via charter@navaboats.com! We are ready to assist you any time.
We wish you a pleasant vacation!