What to do in Split: Summer 2022
We gathered for you five little events happening in Split summer 2022 to keep you busy while you are not at sea.
You may have already read out blog Best things to do in Split. However, here's what you can do this summer. Additionally, we also bring more information about where you can get medical assistance when you are in Split.
1. SPIZA 2022 Pazar
Date, time, and location: every Sunday from 10 July to 30 October, 2022 from 4 till 11 p.m. @ Green Market, Split.
Spiza is an outdoor culinary event where well-known restaurants like Adriatic Sushi & Oyster Bar Split, Gentile, Konoba Korta, Mali knez poljički soparnik, and others prepare and serve diverse local and international dishes. Moreover, they use biodegradable packaging.
The caterers also donate free hot meals to the initiative "O la la" that prepares meals for the homeless.
The event organizer, association Kultura46, organizes another event in Split in the summer of 2022. It's next on the list!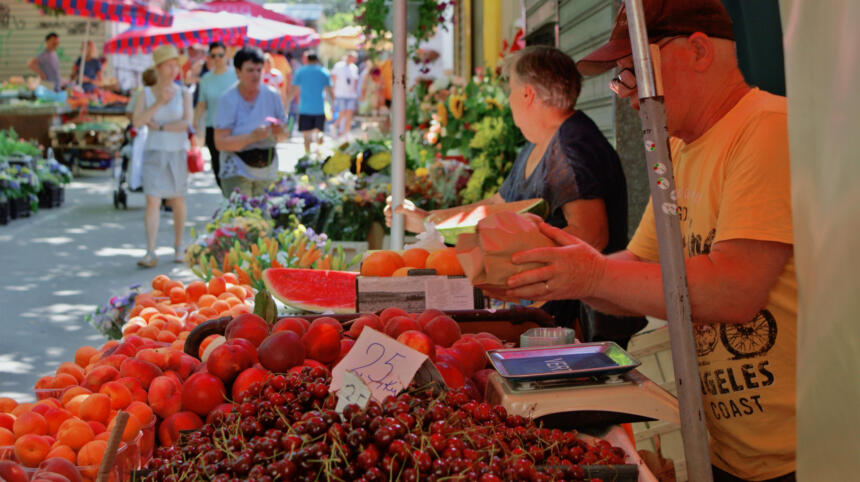 2. ART & CRAFT MARKET46
Date, time, and location: every Friday from 8 July to 28 October, 2022 from 10 a.m. till 10 p.m. @ Split Pazar – Green Market (and Eastern Part of the Palace Substructures as of 5 August).
Art & craft market 46 is a creative outlet for the display and sale of different types of artworks, from objects and antiques to jewelry, fashion items, and natural cosmetics.
3. 68th SPLIT SUMMER FESTIVAL
Date: 14 June – 14 August, 2022
Split Summer Festival has been organizing a full month of international music and theater performances, exhibitions, and other events in Split since 1954. Well, summer of 2022 is no exception!
In fact, together with the Dubrovnik Summer Festival, it's the largest and oldest national on-stage festival. It's most famous for the Verdi's Aida performance on the Peristlye square right in the center of the palace. The original Sphinx from the period of the Egyptian pharaoh Tutmozis III adds to the authenticity of the scenography.
Find more information about different locations and schedules on the Split Summer Festival website.
4. SPLIT PARK FESTIVAL
Date and location: 14 July – 14 August, 2022 @ Zvončac Park.
Split park festival is a street food festival. Located close to Nava Marina, it's the perfect spot to grab a drink and something to eat while listening to some good music. The line-up is a mix of live music, DJs, and theme nights (salsa on Tuesdays, Carnival, etc.). Various kinds of international street food make sure no one stays hungry, cocktails and other drinks take away the thirst and different artists and DJs perform and make you move your body. You can find the schedule and concert info on their Facebook page.
4. KATAMARAN ART 2022
Date and location: 21 July – 7 August, 2022 Loren Živković Kuljiš and from 11 – 31 August 2022 Snježana Ban @ Museum of Fine Arts Split (Ulica kralja Tomislava 15, 21000 Split).
Katamaran Art is a 2018 collaborative initiative of the Jelsa Municipal Museum and the Museum of Fine Arts. It is an art event that alternates between Jelsa and Split during the summer. The exhibit name relates to the catamaran line that transports tourists and commuters from Split to Bol and Jelsa. This flow of people and things is highly increased in the summer months because of tourism. Katamaran Art's goal is to emphasize and promote another, equally important segment of travel – the exchange of ideas. In particular, those relating to art.
Medical Services for Guests – Terra Medica
In addition to these events, Terra Medica opened a new tourist health clinic in Split. After 5 clinics in Istria, now they have a new one in Split. There, you can get tested for covid with a PCR test or a rapid antigen test. They also offer services in primary care medicine (internal medicine, minor surgery and infectious diseases), plus medical examinations at your hotel, apartment, or boat in Split. For additional information, call them at +385 98 410 680 and make an appointment.