Nava at New York Travel Show 2023
On January 28th and 29th, Andrijana from our Nava's charter team is participating at the New York Travel Show. Needless to say, America's Favorite Travel Show is the perfect place to meet up with travel experts from all around the globe.
Andrijana will be happy to tell you all about Croatia, give travel tips and advice. Moreover, Nava has some new boats in our fleet and many special offers just for the New York Travel Show attendees. So come meet her and plan your next vacation with us! There's no better way to enjoy and explore Croatia than from the deck of an excellently equipped boat!
When & Where is the New York Travel Show?
The show will be held on January 28-29, 2023. On the first day, Saturday, January 28, the show will be open from 10am until 5pm. However, on Sunday, January 29, the show will be open from 11am until 4pm.
The New York Travel Show is held at Jacob K. Javits Convention Center in Hall 3D/3E in New York. If you are traveling by a car, paid parking is available near the Convention Center. For more information on how to get to the show if you're arriving from out of NY, check out the Javits center website. Andrijana will be at the Croatian Pavilion – booth #569.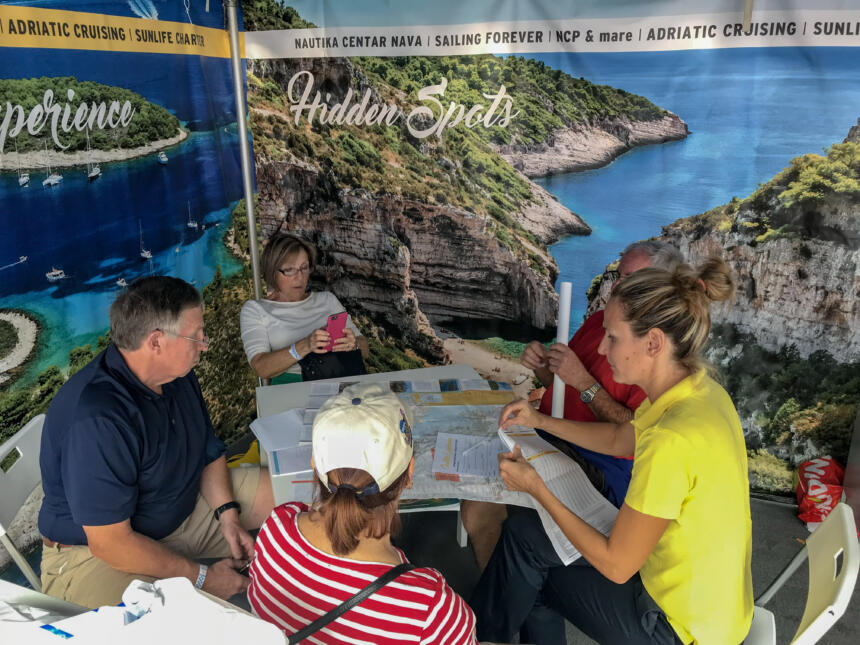 Why should you visit our stand?
Croatia is one of the top sailing destinations in the world. With over 1,000 islands and countless beaches and bays, warm sea and long, sunny days, it's the perfect place to spend your summer months.
Nava has almost 40 prime catamarans, sailboats and motorboats. As of 2022, we have 4 charter bases: Split, Slano (near Dubrovnik), Rogoznica, and Pula. With bases all along the Adriatic coast, discovering all the beauties of Istria, Kvarner, and Dalmatia, has never been easier. We are here to help you plan your dream cruise with our rich experience and knowledge about Croatia.
Of course, if you're thinking about booking your holiday, Andrijana from our charter team will be at the show to make sure you get the special deals we have prepared especially for the New York Travel Show.
Since the show takes place at 4 on-floor theaters and thousands of exhibitors and visitors are expected, it might be a bit challenging to find us there. So, we recommend e-mailing us in advance and scheduling a meeting. Let's meet in New York!