Rent a Motorboat in Split
When you rent a motorboat in Split you can go north, south, or just boat around Central Dalmatia. Motor boats are fast and easy to maneuver.
When you rent a motorboat in Split you can go north, south, or just boat around Central Dalmatia.
When chartering a sailboat or a catamaran your route needs to be more carefully planned. Unless you have extremely favorable wind conditions, you are not likely to sail more than 8 knots.
Go to North, South Dalmatia or stay Central
Split is ideally located and when renting a motorboat from Split you can easily adjust your route to your preferences. With a motorboat, you can go 50 or more nautical miles per day and not even feel it. It takes 2-3 hours to cover that distance with a motorboat whereas a sailboat or a catamaran would take at least 4-6 hours of sailing. This is particularly tricky if you have kids on board that might find it boring after the first excitement passes. Or even worse, if some of your crew members has seasickness.
Head north and visit the Kornati archipelago and the national park as well as the nature park of Telascica. The national park of Krka waterfalls is also in that area. The charming town of Skradin is where you'll need to stop by in order to visit the waterfalls since only authorized vessels are allowed in the park area.
Stay in Central Dalmatia and visit the neighboring islands of Solta, Hvar and Vis with plenty of interesting locations and sites.
Go further south and enjoy Lastovo, Korcula, Mljet, Peljesac peninsula or even all the way down to Dubrovnik.
Or make your own list and mix and match as you please.
You won't need to start your motorboat early unless you prefer it that way.
Motorboats:
are fast (18-22 kn on average)
are easy to handle and maneuver
dropping anchor and docking is a child's play
have bigger ranges – select a route of 150 or 200 NM in one week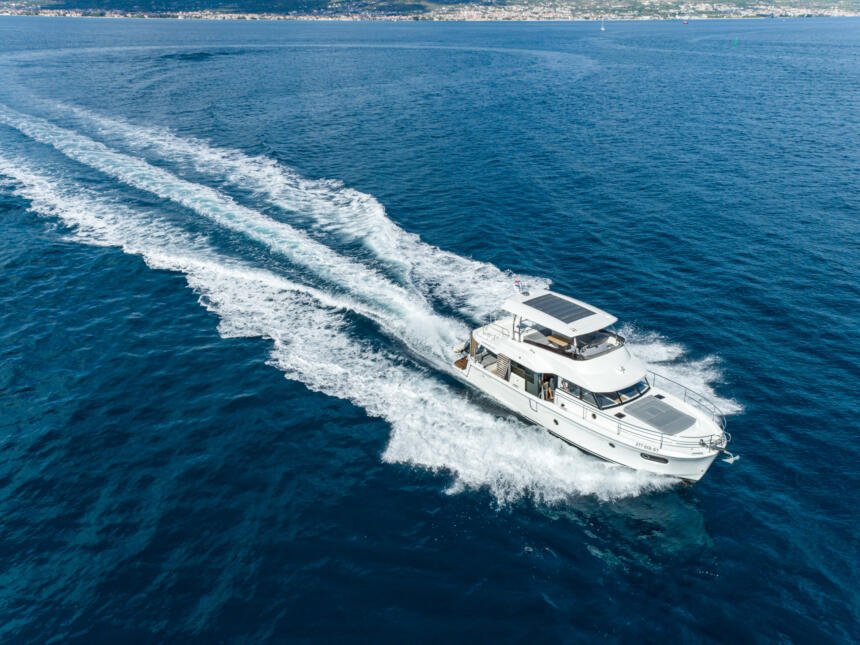 Rent a motorboat in Split and enjoy a carefree vacation
With over 30 years of experience in boating and boats and dealerships for some of the world's most renowned brands, Nava Charter is the safest choice for motorboats. Apart from charter, Nava is a distributor for Beneteau motorboats, Sea Ray, Boston Whaler and Saxdor Yachts plus a Volvo Penta center for Croatia. Full-time staff and experts examine, equip, and maintain our motorboat fleet. We have a workshop and spare part shop as well as a network of well-trained workshops throughout the Adriatic Coast.
In case something does happen to one of our vessels, our 24/7 support line is ready to sort any issue within 24 hours and have you boating in no time.
Charter with Nava! Send us an email and our charter team will get back you as soon as possible.