Fishing in Croatia – North Adriatic
The rich waters of the North Adriatic are among some of the most popular fishing sites in Croatia. Perfect for passionate fishermen!
Are you visiting Croatia? Are you a passionate fisherman, or would you like to see if there is one hiding in you? You have endless possibilities when it comes to fishing in Croatia and exploring the coast.
The rich waters of the North Adriatic are among some of the most popular fishing sites in Croatia. The many trenches, holes, and rocks along the coast, make the North Adriatic a popular breeding ground for marine life.
First things first, get your license! Only kids under the age of 14 are allowed to fish in Croatia with no license. Just fill out the form and pay online, and you're good to go. You can select between two types of licenses: sports or recreational. And opt for one-, three- or 7-day license. In order to apply for the sports license, you need to have a valid annual membership card of the Croatian federation for sport fisheries at sea or the sport fisheries' federation of another country. If you don't have your gear with you, contact our charter team to arrange for the perfect fishing set to wait for you on board your selected vessel.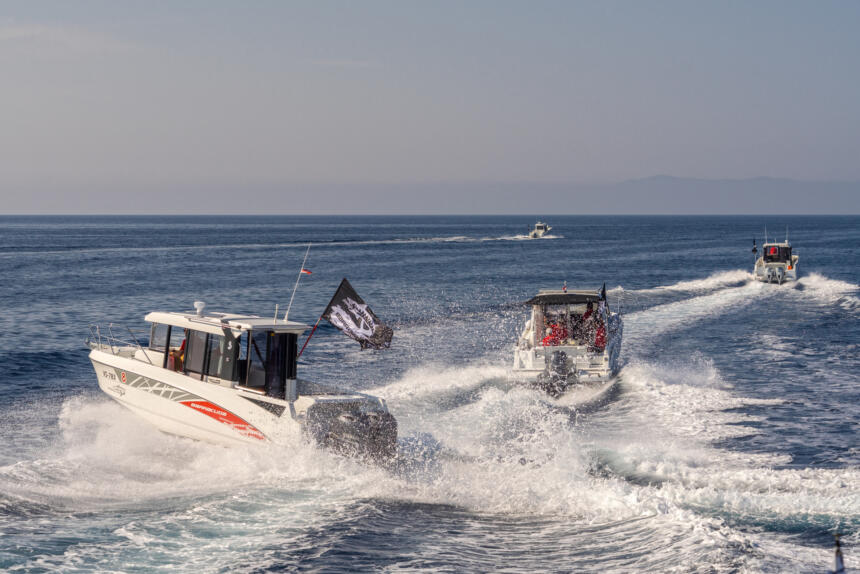 Why Fish in The North Adriatic?
With 1244 islands, islets and reefs, Croatia is often called 'the country of a thousand islands'. The North Adriatic alone is rich in fish and other marine biodiversity. It comes with no surprise that recreational fishing is a practiced sport in the area. It's a popular industry in Croatia, but also a great way to wind down and relax. What better opportunity to experience this than while exploring the Adriatic aboard your Nava charter?
Try your luck!
Undoubtedly, expertise, good equipment and luck all play a part, but the location is the most essential element when it comes to fishing in the North Adriatic. While many fishermen prefer to keep their best fishing spots, a secret, we're here to help you get the most out of your adventure. Fishing in the North Adriatic is among one of the best in Europe, with a wide array of species that are not only delicious, but hard to catch elsewhere!
It's important to remember that the most significant skill for fishing is patience! Practice makes perfect, and with some luck you'll be able to catch two-banded sea bream, sea bass, dentex and even gilt-head bream.
North Adriatic Sea Fish and How to Catch Them
When you are trying to catch your lunch or dinner, you're likely to come across one of the 400 Adriatic sea fish species native in Croaita. Some of these fish include sea bass, sea bream, pandora, mackerel, sardines, sprats, red mullet, and monkfish among others. If you're lucky, you may even find Mahi Mahi or swordfish at the end of your line!
Big game fishing is very popular in Croatia, and the North Adriatic as well. However, a boat for big game should be equipped for this type of fishing. So, if this is your goal we recommend booking a big game adventure with local connoisseurs that have all the necessary equipment, licenses, knowledge, and experience.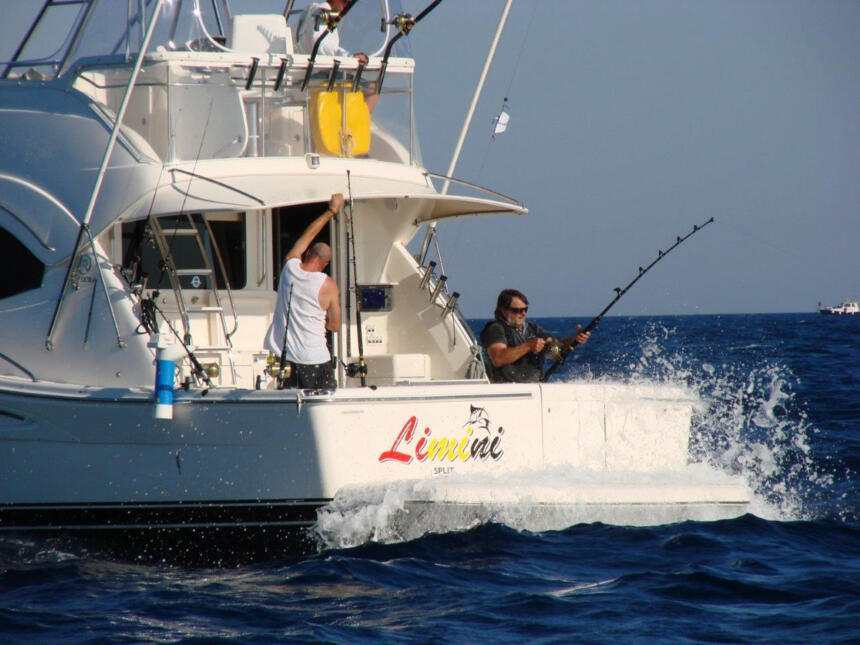 Bottom Fishing
Sea Bass (Lubin or Brancin, in Croatian) is one of the most appetizing fish found in the Adriatic. Skip the restaurants and forage this fish in shallow waters close to the shore. Check if you can taste the difference when catching it and cooking it yourself! Even more so, on a crewed charter, your experienced chef is likely to make it into a memorable meal. The best way to attract delicious sea bass is bottom fishing or jigging – give it a try! Using this technique, you're also likely to attract some other fish such as cuttlefish, sea bream, dentex and mackerel.
Spearfishing
Looking for some adrenaline? You could also try spearfishing for a delicious labor-intensive catch. Dinner will taste even better after a long day at sea. According to Croatia's Maritime and Fishing rules, you can spearfish only during daylight, for obvious reasons. No oxygen bottles are allowed and you can only have 2 spearguns. You require a sport fishing license. Despite its thrilling nature, this activity requires physical and mental capability owing to the diving abilities and weapon at hand. The best time for this activity is in the late summer and early fall when you ought to find the most rewarding catch on the rocky seabed.
Northern Adriatic: The Best Fishing Spots
Undoubtedly, fishing in Croatia combines perfectly with a crewed charter vacation. Certainly, the main advantage is that you have your professional "guide/skipper" right with you onboard. This means hitting the best spots. However, if you're chartering your vessel bare boat, here are some of the best spots for recreational fishing.
Istria
With Nautika Centar Nava's new charter base in Pula, the area of Istria is well-suited for a fishing/charter vacation in Croatia. The new infrastructure and Marina Polesana also provide a great berthing spot after a long day of fishing. There are several spots worth exploring.
Poreč – due to small islets in area expect to catch here gilthead (orada), mullet (cipal), white sea bream (šarag or špar) and sea bass (brancin or lubin).
Rovinj – because of many underwater reefs you can catch here the European lobster (hlap), squid (lignja), cuttlefish (sipa) or common dentex (zubatac). Keep in mind that dentex smaller than 30 cm should be released back into the sea.
Pula – in the direction of the national park Brijuni, the sea bottom is rocky so dentex, gilthead, European conger (ugor), and sea bass swim in the area. In case the European conger is caught smaller than 40 cm it needs to be released. Fishing within the national park is prohibited. Rt Kamenjak (Cape Kamenjak) is where you are most likely to find the European hake (oslić or mol), mullet (cipal) or saddled seabream (ušata).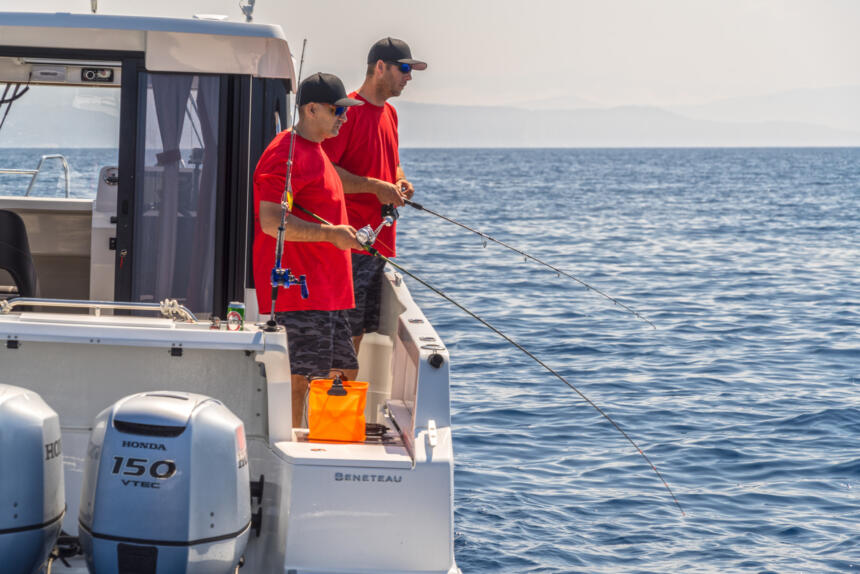 Cres and Losinj
If you are in the northern region, you should not miss out on the crystal-clear waters of Losinj and the surrounding islands. The Kvarner Islands are some of the most popular destinations in the Adriatic among adventure seekers. Due to the steep northern and eastern shores, the underwater has many holes, trenches, and caves. That and different types of sea bottom practically guarantee fine catches.
Losinj:

Gilthead (orada/komarca) – probably the best habitat
Brown meagre (kavala)
White sea bream (sarag)
Dentex (zubatac)
Sheepshead bream (pic)
Red scorpionfish (skarpina)
European conger (ugor)
Around Susak and Unije lobsters and crabs are very common and squid (lignja) and garfish (iglica) in the winter periods.

Cres:

Sea bass
Gilthead
Sea bream
Sheepshead bream
Two-banded bream (fratar)
Brown wrasse (vrana)
Kornati Archipelago
Fishing in this region is not lacking! The fishing industry around Kornati is big. The rich waters and marine biodiversity is a great advantage for fish and fishing enthusiasts alike. Abundant marine life in the area means that there is potential for a successful fishing afternoon. It is important to mention that fishing within the Kornati National Park is allowed by law, but strictly a no-fishing zone according to the regulations of the national park. So, in order to avoid a fine, we recommend doing it outside the park limits. Expect to catch here common dentex, grouper, red scorpionfish, white sea bream, common pandora, sea bass, gilthead and many other species.
Be Sustainable!
Fishing methods are usually passed down from generation to generation. In case you charter our boat with our local skipper, know that they are well-versed in the best tips for fishing and often have their own equipment. They are also more than happy to assist and guide you through your fishing adventures!
When partaking in recreational fishing, please remember that, unfortunately, we humans often bring disbalance and sometimes threaten marine wildlife. Thus, in recent years, more native species have become endangered. Keep in mind to release specimens that have not reached the required length or weight. In any case, only catch what you mean to eat. And bear in mind that the daily limit is 5 kilograms.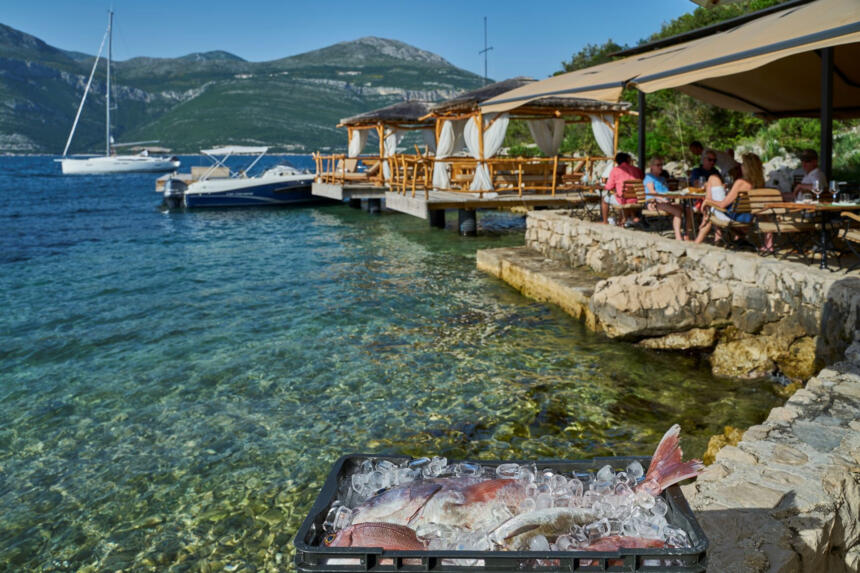 Protected sea species
The following species are protected in the Adriatic waters: ocean sunfish, fan mussel, date mussel, Caspian gull, green wrasse, Holothuroidea, Mediterranean monk seal, common bottlenose dolphin, common dolphin, all whales, all sea turtles, some shellfish, Triton's Trumpet and Neptune Grass. Find the full list of species on the Croatian Tourist Board website.
The charms of this sport are certainly its unpredictable nature and the mixture of luck and skill necessary for a successful fishing adventure. If you would like to give it a try during your charter, contact our charter team at charter@navaboats.com or call Nautika Centar Nava at +385 021 407 700. We'll be happy to help you select the perfect boat for you and prepare a fishing set on board your chosen boat.