Nava Boats Return to Zagreb Boat Show 2023
Did you miss the Zagreb Boat Show – NAUTIKA during the two-year break? If you did, then you should certainly take the opportunity to go this year. The event takes place from the 22nd until the 26th February 2023, and this year it marks its 30th anniversary.
It is one of the most important in-door boat shows in Europe and during these five days, boat lovers will get to see many sorts of boats, as well as equipment and accessories for water sports and other nautical activities.
Obviously, Nautika Centar Nava is attending this event. And we are looking forward to seeing you there! Find us at stand number 17 in pavilion 10A where we are presenting a selection of 7 boats – Sea Ray, Saxdor Yachts and Beneteau Motorboats. Read on to learn more.
SEA RAY
Sea Ray produces high-quality powerboats. At Zagreb Boat Show, you will have the opportunity to see the Croatian Premiere of the Sea Ray 320 Sundancer OB and also 230 Sun Sport OB.
Sea Ray 320 Sundancer OB
This boat is an excellent combination of a sports boat and a cruiser. Thanks to its remarkable indoor and outdoor space, the Sea Ray 320 Sundancer is a pleasure to drive. A spacious and comfortable bow is ideal for a get-together or to enjoy food and drinks with family and friends. You can accommodate up to 10 people on your cruise. Read more on this particular model on our Sea Ray news page.
Sea Ray 230 Sun Sport OB
When designing 230 Sun Sport OB model, the focus was on a combination of speed and comfort. The boat can take up to 8 people on board, so you can invite guests to join you. This models interior has spacious cabin with a dinette and exterior has integrated sun pad in the bow and a swim platform in the stern. That's all you need for your summer escape.
SAXDOR YACHTS
Saxdor Yachts is a company that has only been on the market for 3 years and has already achieved great success. At Zagreb Boat Show, 2 of Saxdor's models will be displayed: Saxdor 270 GTO i Saxdor 200.
A new model with a modern look and excellent performance is comfortable and ready for enjoyment. It comes with a lot of additional equipment including an entertainment package. The boat also has a large sun pad and because of the space below the deck, it is perfect for the weekend excursions. Thanks to its opening side terrace, the boat has great access to the water so you can easily enjoy swimming or water activities while boating. Impressive features, aren't they?
Saxdor 200
Model Saxdor 200 is made for those who prioritize fun and adventure. Because of its size, it is a perfect choice for exploring islands and destinations that are complicated to reach with some bigger boats. The spacious deck provides enough space to enjoy boating with your loved ones, while the sun lounger on the bow enables lounging in the sun. If you prefer short and fast trips, then this is the model for you. Learn more on the model on our Saxdor website. This model will be on display outside hall 8A.
BENETEAU
The first brand that comes to mind when speaking about power and agility is surely Beneteau! Come to Nautika Zagreb Boat Show, and check out 3 Beneteau models on display.
Antares 9 OB
This model has everything you might need for your next weekend or even a longer cruise. The sliding roof window allows fresh air and cooling on hot days. The large side windows provide great views from the inside. Enjoy sunbathing and relaxing with your loved ones on the bow sun pads or on the convertible cockpit sunbeds.
Length Overall
9 m – 29'52''
Antares 7 OB Cruising version
Antares 7 model is designed for those who prefer short coastal cruises. Sporty and elegant at the same time, this boat has a unique design that makes you feel at one with the sea. It has a spacious cockpit and a bench that converts into a sunbed. Another great feature is its size which allows easy road transportation. Plus, it comes with stand up paddle board roof racks. If you are more of a fishing aficionado, come and talk to our colleagues about getting your own Antares 7 OB Fishing version.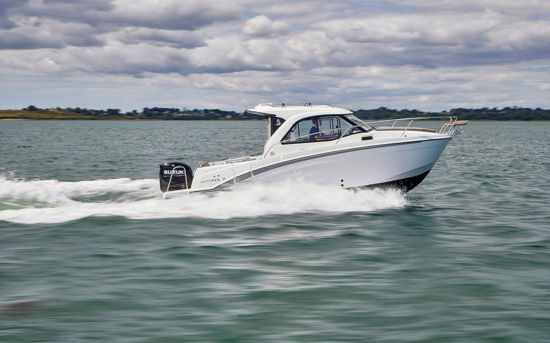 Flyer 7 SUNdeck
This boat is for those who prioritize comfort. Thanks to its design and technology, it offers more comfort and pleasure. Certainly, one of the greatest benefits of this boat is the sundeck for maximum enjoyment on your voyage. The small but functional and cozy cabin under the sundeck is perfect for an afternoon nap or even an unplanned overnight stay for 2 people.
Join us in Zagreb next week
Be a part of this great event and join us from 22 to 25 February 2023, from 10:00 a.m. to 7:00 p.m. (Wednesday – Saturday) and 10:00 a.m. to 6:00 p.m. on Sunday, the 26th February.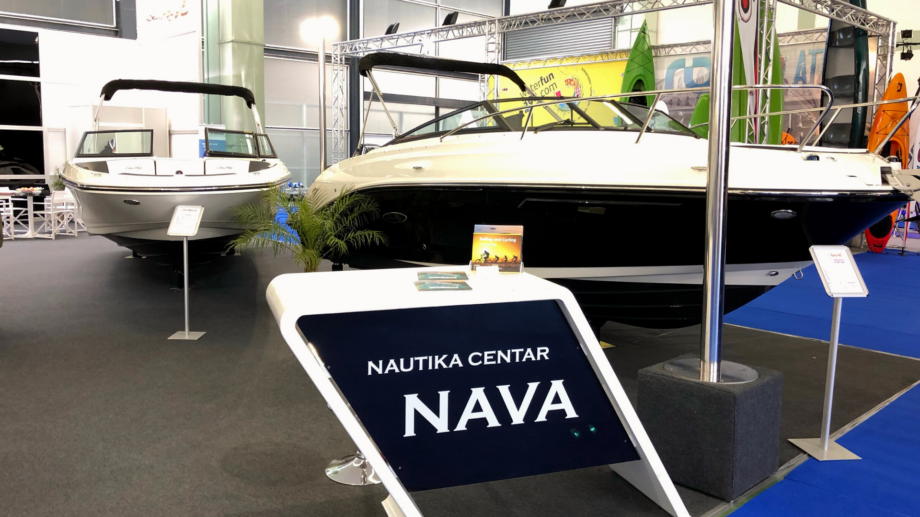 If you want to make an appointment or have any inquiries, please contact us via mail or call us at +385 21 407703. Our expert team will be happy to help you and show you all the models on display, or talk about other models and brands from our wide selection of boats. For instance, Lagoon catamarans, X-Yachts sailboats, Boston Whaler powerboats, and our newest brands the Riviera and Nimbus Yachts. Just let them know what it is that you are looking for in a boat.