X-Yachts' Signature Style in the New X49 MKII: Presenting the Redesigned X4⁹!
The New X49MKII model
In 2018, the X-Yachts Pure X range set a new standard in the global yacht market with the introduction of the X4⁹. Now, with the release of the X-Yachts X4⁹ MKII model, this remarkable range is pushing the boundaries even further. With more than 50 global sales, the X4⁹ MKII has undergone significant improvements that enhance both its performance and onboard comfort.
Redesigned for Excellence
The X4⁹ MKII's redesign begins with its transom, cockpit, and S-bow. These enhancements improve the helming position. Adding coaming, and larger foot support, created a more comfortable and ergonomic experience for sailing both standing and from a seated position. Moreover, handling the sails is now easier, thanks to the optimized winch positioning. The longer cockpit benches ensure better comfort during your voyage. The striking S-bow design, borrowed from the X56 incorporates an integrated carbon bowsprit and a stainless steel anchor arm for a sleek and efficient look.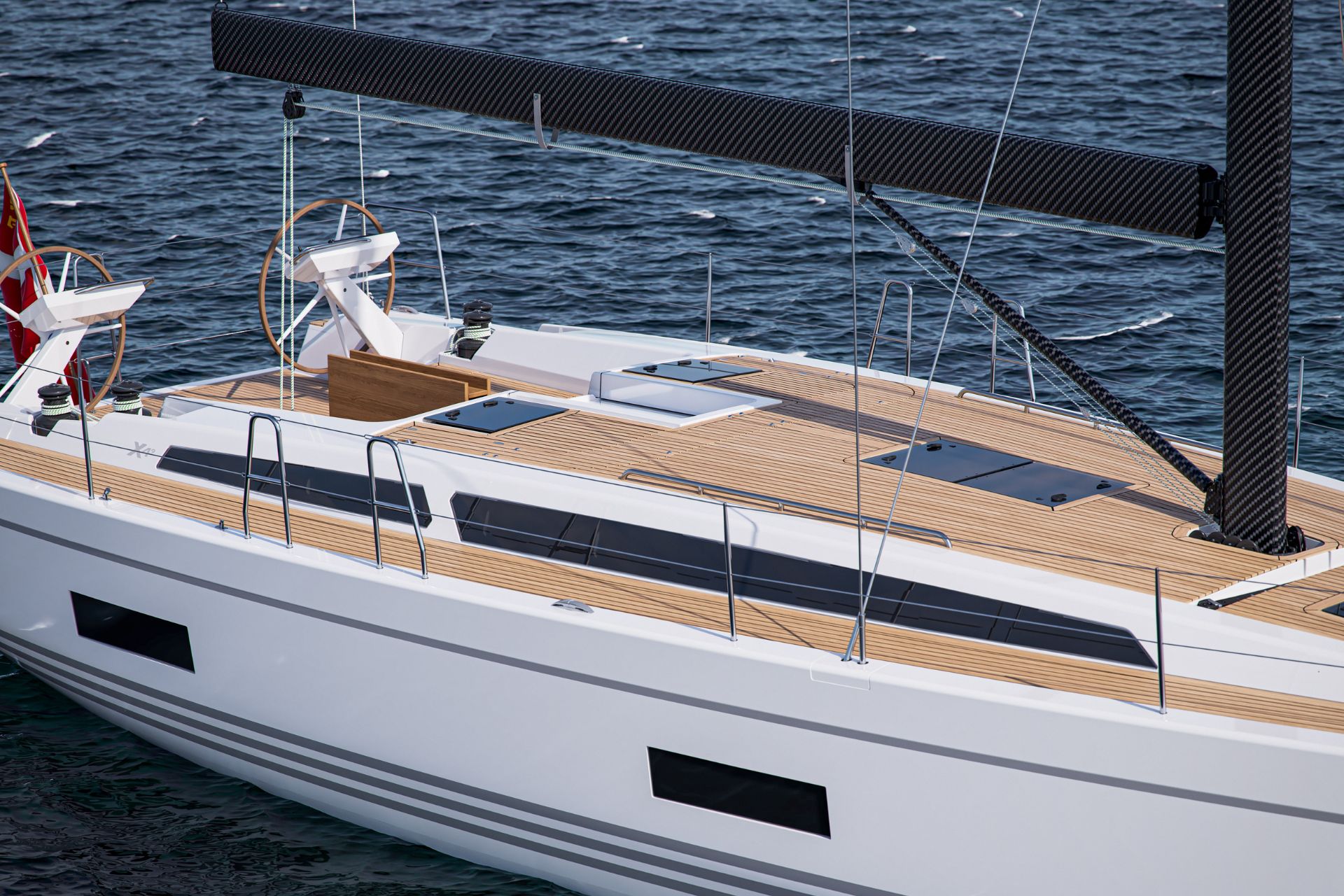 Modern Styling
Pulpits and pushpits have been updated with a modern touch, complete with integrated backstay chainplates, mirroring the X56's design. This contemporary feature brings a fresh look to the exterior of the X4⁹ MKII.
Sailing with confidence
In terms of performance, the X4⁹ MKII has been upgraded with an improved rudder design. This delivers a better grip and reduced drag for higher speeds and greater comfort during long passages. The updated hull and deck structural engineering have reduced weight and lowered the center of gravity. Combined with a larger downwind sail area, the X4⁹ MKII offers superior overall performance compared to the MKI.
Interior elegance
Inside, both head compartments have been redesigned for durability and user-friendliness. At the same time, they have maintained the high-quality features like Corian tabletops. Improved access to storage space in the main cabin, combined with the enhanced ventilation provided by the flush coach roof portlights, complements the luxurious interior design. Additionally, refining the portlights' styling and increasing their size contributes to a 50% boost in natural light within the cabins, and enhances the overall atmosphere.
With all these improvements, the X-Yachts X4⁹ MKII became a perfect blend of style, comfort, and performance. As it sets sail into the yachting world, it marks another milestone in the Pure X range's pursuit of excellence.
If you want to discover more about the X4⁹ MKII and explore the full X-Yachts range, we invite you to contact us for further details. Embark with us on an exciting journey into the realm of yachting innovation. Your adventure begins here; reach out to us and let's set sail towards the future of yachting together.