The Best Ways to get to the ACI Marina Slano
Slano Marina is the perfect starting point for your next charter cruise. Read on to learn how you to get there and explore South Dalmatia.
Your next dream sailing vacation doesn't necessarily need to start in Split. Nava Charter also offers departures from Slano, as well.
Slano is a little town just 12 NM north of Dubrovnik, and in 2017 a new modern ACI Marina opened for business. Here Nava Charter keeps several catamarans all year round and also offers one-way charters for all those that want to see the most of Croatia in one week.
If you are thinking of starting your next charter in the south of Croatia – good for you! Expect fewer crowds, pristine bays and charming villages, excellent local cuisine and plenty of sunshine. Rest assured, Slano Marina is very accessible, and we have prepared an overview of the best ways to arrive to the ACI Marina in Slano.
Where is Slano in Croatia
The new marina in Slano is just 55 km (34 miles) north of Dubrovnik Airport and 35 km (21 miles) from the city center. This strategic location is perfect for those looking for adventure in the southern waters of the Adriatic Sea. Starting your journey in Slano also gives you a chance to do a one-way journey from Slano to Split and avoid the need to see places twice.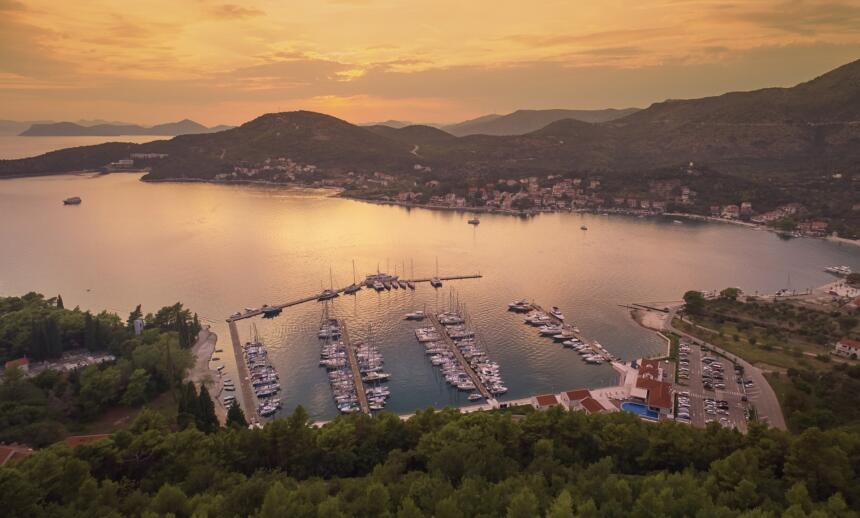 Arrival options
The nearest airport to the ACI Slano is the Dubrovnik Airport (DBV). Coming from this airport is a good option if you are interested in a quick start to your sailing adventures. If you are coming from other Croatian Airports like Zagreb, Zadar or Split, Nava Charter has special transfer options, just mention it to the booking team.
Getting there by bus
It's a bit challenging because there are no direct lines connecting the airport and Slano. You'll need to catch a Bus Shuttle at the Dubrovnik Airport (approximately 35 minutes). This shuttle takes you to the Dubrovnik Bus Station where you need to switch buses and find one to take you to Slano (additional 40 minutes' drive). This whole route costs around 10 € one way.
Taxi, please!
For a more direct route, there are taxis at the Dubrovnik Airport that take you directly to Slano. This trip takes approximately 1h and will cost around 80/90 €. For more information, you can check the Taxi stand located on Terminal B of the Airport (Domestic and International Arrivals).
From the city center, taxis usually cost 380-450 kunas (50 to 60 euros). This is a 35 minutes' drive. Please note that all taxi drivers are obliged to issue a receipt for the drive upon request. So feel free to ask one if you need it.
Driving Your Way
If you rent a car, the trip is even faster. The distance between the Airport of Dubrovnik and the Marina in Slano is just about 55 km (34 miles) and should take around 1h drive to arrive there (taking crowded local roads into account). The ride from the city center to the Marina is just about 36 km (22.5 miles) and takes about 35 minutes to get there.
Driving from Split is also a great option. Enjoy a pleasant 2h30min road trip to Southern Croatia. Our guests can benefit from the option of Checking-in in Slano and Checking-out in Split. This is the ideal route if you are looking for a trip with no double stops on the way.
Looking for renting a car? Dubrovnik Airport provides a list of all the companies that offer car rental within the area. From Split Airport it is also possible to check the companies available to rent cars directly from the airport.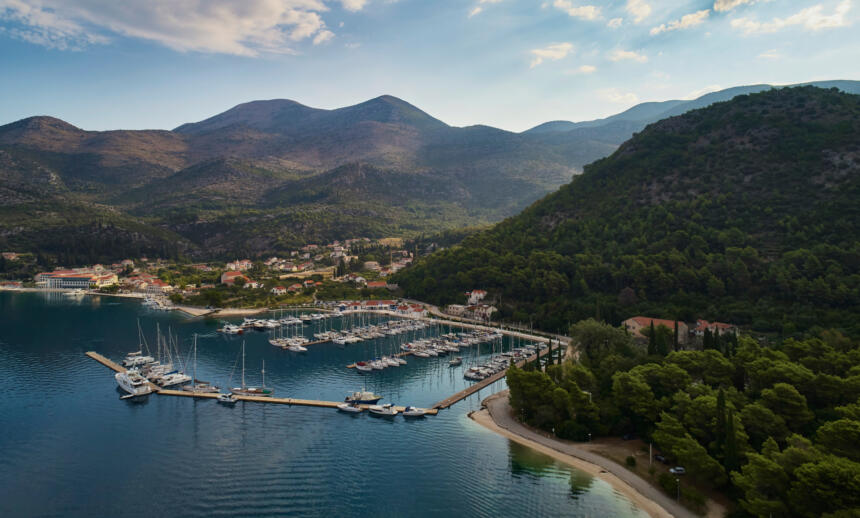 One important remark to have in mind is that the ACI Marina in Slano only has a parking lot that is charged: 1€ per hour and 15€ per day. Other facilities available at the marina are an ATM, Laundry, Swimming Pool with bar and restaurant. Futhermore, water and electricity usage in the marina are free of charge. In addition, they are also one of the rare marinas that offer blackwater tank discharge and at no cost. We recommend using this service since it's the most environmentally friendly option and also because emptying your blackwater tanks closer than 12 NM from any shore you risk getting a fine of 1.000 €.
NAVA Special Transfer
Upon request, Nava Charter offers the best option of getting to our boats – a transfer organized just for you and your crew. We organize your trip having in mind all your requests. With a van transfer it is possible to choose starting your journey wherever suits you better, from Dubrovnik, Split or Zagreb. Just let us know upon booking that you need a transfer service and our team will get you one step closer to the relaxing while sailing in the Southern waters of Croatia.
Check-In and Check-Out Procedures
In Slano, Check-in is available from 5 p.m. on Saturdays (learn more on the process in our previous blog) and Check-out should be done by 8:30 a.m on Saturdays (our recommendation is that arrivals and check-out are done on Fridays from 3 to 7 p.m). We also have a blog on the check-out as well!
We hope this blog helps you plan your vacation and arrival. The more you prepare beforehand, the more you'll be able to enjoy while on board. See you then in Slano and welcome on board!
Request your offer! Email us and our charter team will get back to you.