Rent a Catamaran in Dubrovnik
Rent a catamaran in Slano is better than rent a catamaran in Dubrovnik. Learn why it's better to start from Slano and explore south Croatia.
Nava Charter was the first to introduce catamarans in Croatia in 2001.
We started offering Lagoon catamarans from our first and main base in Split. We had a base in ACI Dubrovnik in Komolac for a few seasons but decided to shut it down. As soon as we received word a new ACI base is under construction in Slano, we decided to open a second base there. And, in 2017 we did. Moreover, we have concluded that it's actually even better sailing out of Slano rather than renting a catamaran in Dubrovnik.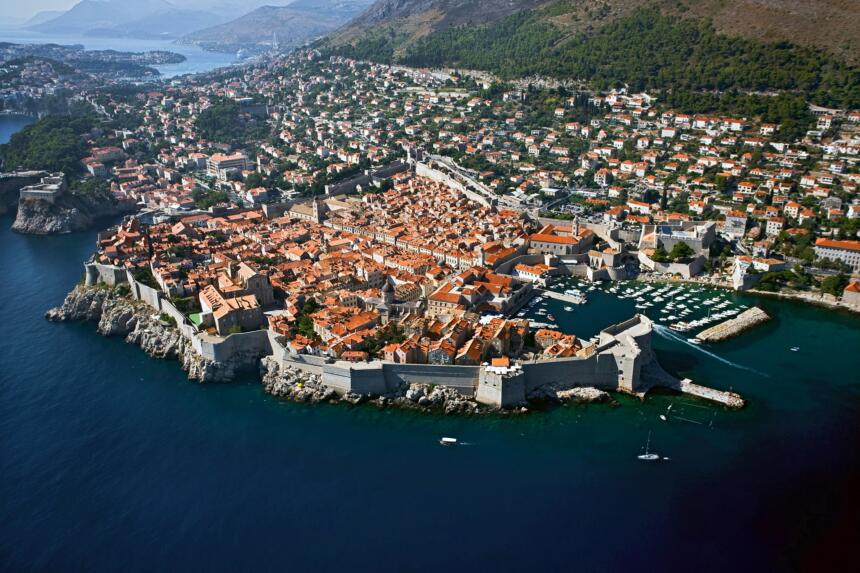 Why is Slano a better starting point?
The new ACI marina "Veljko Barbieri" in Slano is a much better starting point than the ACI Dubrovnik so rent a catamaran in Slano instead of Dubrovnik. The 35 km (21 miles) road distance from the center of Dubrovnik might seem like a lot. Actually, the sailing distance from Slano to Dubrovnik is only 12 NM. The best part is that Slano is so much closer to all the best spots. Once you check-in on your boat and start your engines you can be on Sipan in less than 15 minutes. Crowded ACI marina Dubrovnik is not even in Dubrovnik. It's set deep within Rijeka Dubrovacka bay. Around 7 km (4.3 miles) road distance to the center of Dubrovnik might take you as much as 30 minutes in rush hour and high season.
In addition, the narrow channel has a speed limit of 5 kn and is 2 NM long. And, the police are always eager and ready to charge a ticket. This means it will take you more than 15 minutes just to get out of the channel. If you had started from Slano, you would have already been on Sipan by that time.
Here's a comparison of the sailing distances:
| | | | | | |
| --- | --- | --- | --- | --- | --- |
| | Sipan | Mljet | Korcula | Lastovo | Dubrovnik |
| ACI Slano | 2 | 9 | 35 | 44 | 12 |
| ACI Dubrovnik | 7 | 15 | 45 | 56 | 7 |
Rent a catamaran in Dubrovnik actually means Slano
When you rent a catamaran in Dubrovnik it's actually quite a hassle so renting it from Slano is way better. Select one of our 11 excellently equipped Lagoon catamarans and you can start planning your route. You might notice the south is much less crowded than Central or North Dalmatia.
We have brand-new Lagoons 40 in our fleet. A beautiful owner's version of the Lagoon 42, as well as a few Lagoons 450 F and a crewed Lagoon 50. The average age of these catamarans is 1.7 years, so they are in excellent shape. Most of them have great additional equipment such as solar panels, water makers, icemakers, dishwashers, washer/dryer, air-condition, etc.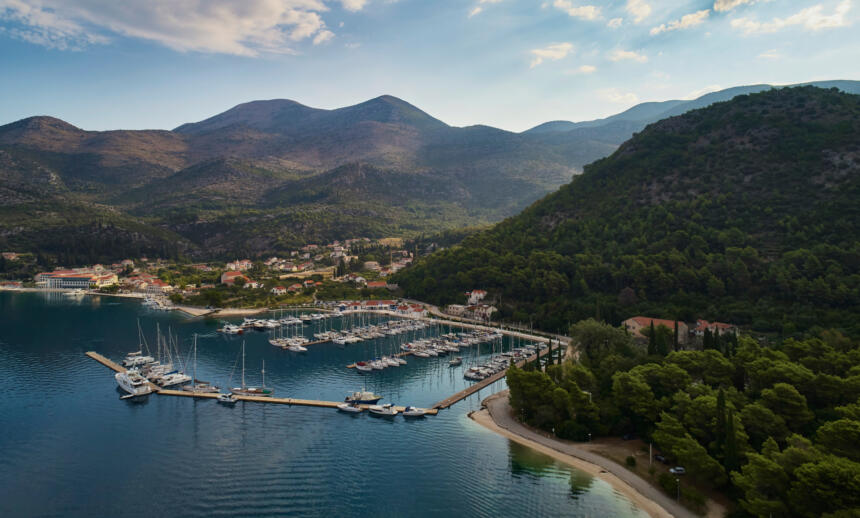 If you are having trouble deciding, just send us a quick message, and we'll be happy to help. Let us know your dates (and if these are flexible), the number of persons or catamaran size, budget, anything specific you want the catamaran to have on board. Feel free to call our office, as well, at +385 21 407 700.
Are you ready to start planning your South Dalmatian cruise? Here are some interesting reads to help you in the process: how to reach our Marina in Slano and what a check-in looks like.
South Dalmatia will surprise you and here's a short overview of what's in store:
Game of Thrones
Ston as King's Landing, Trsteno as Tyrell's Garden, in Dubrovnik the city vista was most often used as King's Landing and in the city: Minceta Tower in Dubrovnik as the House of the Undying, Lovrijenac Fort as the Red Keep and the site of the Battle of Blackwater, Gradac Park as Purple Wedding venue, Jesuit Staircase was Cersei's Walk of Shame, Saint Dominic Street was used for Market Scenes, Ethnographic Museum, the Ploče Gates and the Old City Walls were used for King's Landing representation
Nature
National Park Mljet has 2 sea lakes with fascinating underwater life, small islet with a monastery, remains of a Roman palace etc. and not to mention one of the safest bays for anchoring – Polace.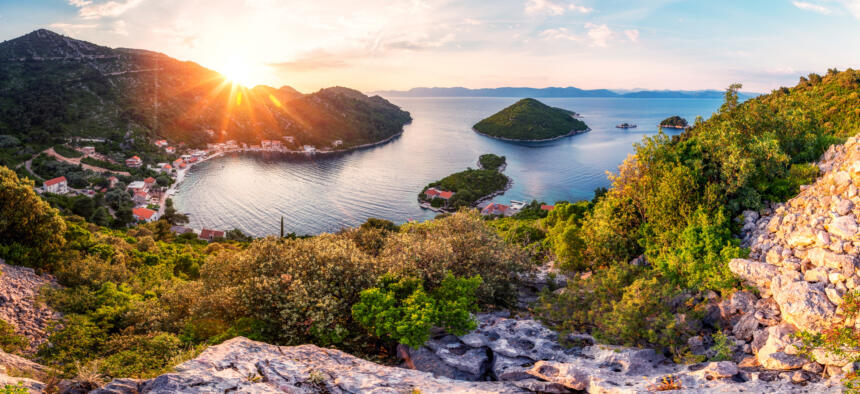 Nature Park Lastovo – enjoy isolation, mystical beauty, fascinating landscapes and dense pine forests plus marvelous high coastal steeps, land and underwater caves and marine and land flora and fauna and some of the most beautiful beaches there are on the Adriatic. The park includes 46 islands, islets, rocks and reefs and the largest are Lastovo and Sušac.
Cuisine
Oysters in Ston, unique culinary experience at Gastro Mare in Kobas, Bowa on the island of Sipan, makaruni on Korcula, fine dining in Dubrovnik or any number of small local taverns and restaurants throughout the South of Dalmatia…
Wines and Wineries
Posip, Grk and Rukatac – white wines from Korcula – excellent local small winery Bire in Lumbarda or Krajancic in Cara
Plavac mali – the most common sort in all of Dalmatia
Dingac – rich red wine from the Peljesac peninsula (a variety of plavac mali) – exquisite winery of Korta Katarina in Orebic or many other wineries across the peninsula (Madirazza, Matusko)
Marastina from Lastovo – Saric winery on the island
Grgic winery in Trstenik… and many more!
Docking
Only 5 marinas (biggest are in Slano, Komolac and on Korcula), 5 anchorages and 2 moorings.
Islands
10 islands and 102 islets to choose from
Beaches
Sandy beach of Saplunara on Mljet
Sandy beaches in the Lastovo archipelago
Stunning Banje beach with the vista of Dubrovnik
Sunj sandy beach on Lopud island
Pebble beach on the islet of Proizd near Vela Luka on the island of Korcula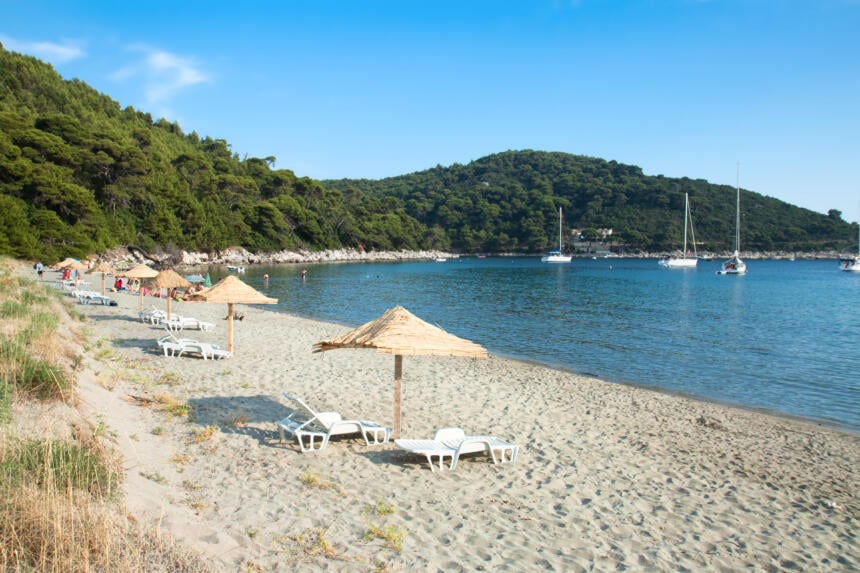 One additional perk of renting a catamaran in Dubrovnik and with Nava Charter, is that since we have a main base in Split you can choose a one-way charter. This way you get the best of South Dalmatia and Central Dalmatia all in one week.
Contact our charter team and start sailing from Nava's base in Dubrovnik (Slano).